OECS YES In Action features Jhovan Daniel
Montserratian ICT pioneer advocating for change in his island home and encouraging others to get into action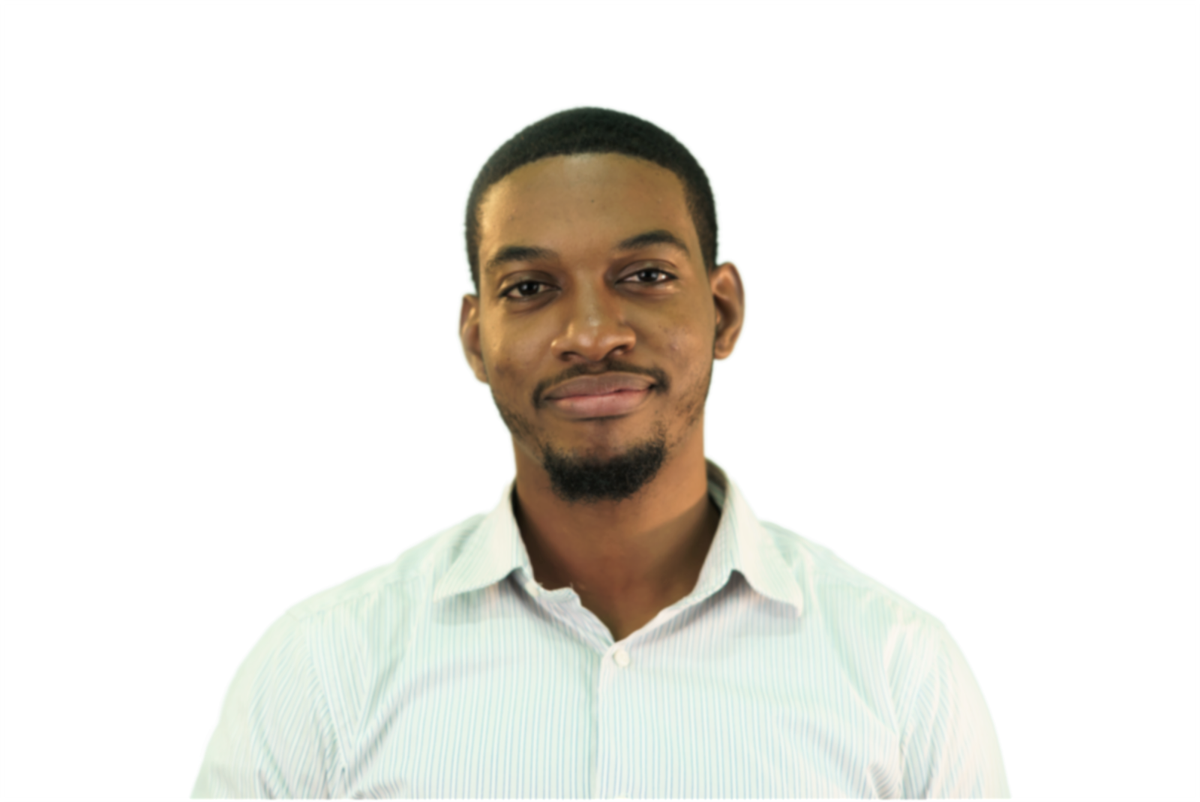 This month, OECS YES In Action caught up with Jhovan Daniel, a 24 year old Montserratian entrepreneur using 3D Technology to build the region's future without losing sight of the past.

Tell us a little about yourself.
I am from the beautiful and peaceful island of Montserrat.
Currently, I hold the post of Senior Systems Administrator at the Montserrat Customs and Inland Revenue Service department. Prior to this, I taught Information Technology at the Montserrat Secondary School for 2 years. I earned my Bachelor of Science in Computer Science after 3 years of undergraduate studies at the University of the West Indies, Mona, in Jamaica.
I also am a founder of 4th Dymension, a local software company which specializes in 3-D modeling and creating Virtual Reality experiences. I am privileged to also serve at this company in the capacity of CEO. I also serve as the 3D Modeler when working on projects.
I have many hobbies such as playing the guitar and ukulele, playing video games, doing amateur graphic design work, and 3D modeling. Although throughout my life my hobbies and interests have been ever-changing, I am pleased that I now have 8 years of experience in 3D modeling and have turned that hobby into a useful means of earning income and innovation.
I also enjoy giving back to the community and engaging the youth of the island, whether it is through tutoring, hosting summer camps, or just socializing. I am a part of the Rotaract Club of Montserrat, where I have served as Public Relations Officer, and currently serve as International Service Director. I also volunteer with Fish n' Fins, a non–profit for community interest, kids' ocean club, which enables children to learn to swim, snorkel and dive in a fun and safe environment. The focus of the club's activities are around learning about the ocean, its usefulness to our lives and how we can play a key part in its long–term protection.
I love travelling and enjoy learning new things in the area of Computer Technology while challenging myself, and others, to be innovative.
When did you first notice your inclination towards information and computer technology?
I have always been a video game enthusiast - I have been playing video games for as long as I can remember. I began to wonder how they were made and even got into development and programming concepts around the age of 14. I made a lot of progress in that area and learned about programming logic and how to do graphics, but over time my interest shifted to art and architecture.
My interest in software development resurfaced when I, along with a team of brilliant peers, developed a quiz app for a local science fair. Around this time I started the subject Computer Science at the Montserrat Community College, which caught my attention. After learning to code and making working programs, I decided that I would go deeper and study Computer Science at the undergraduate level. My aim was to further understand concepts in the field of study and learn how they can be used to create innovative solutions to problems. I also simply wanted to do cool things with what I learnt.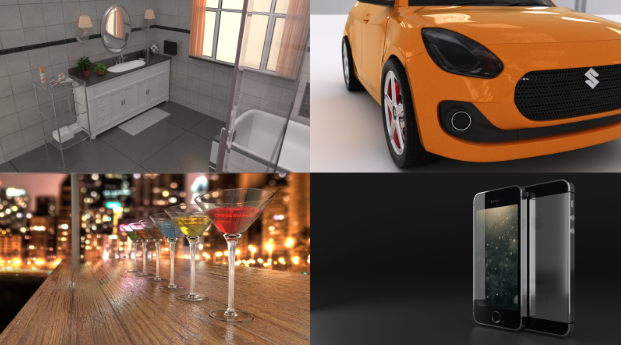 What obstacles, if any, did you face and how did you overcome them?
I have been fortunate enough to be blessed with wonderful and supportive parents who have taught me to be disciplined and collected in action and thought. I have also had good support from friends and acquaintances who I am very grateful for. If I am being honest, I have not faced extraordinarily difficult obstacles, or at least the difficulties I have faced have not felt that hard to overcome.
The most difficult thing I can think about is trying to decide what exactly I wanted to do as a career. Even within the field of Computer Technology, I have had many interests such as graphic design and 3D modeling, database design and production, video game design, commercial app creation - and the list goes on. I have tried my hand at all of them. At one point, during my studies at UWI, I was also wondering if the field of Computer Science was really the right field for me. A few of the more theoretical courses, and math courses, gave me a hard time and made me wonder if I really wanted to pursue this degree.
I concluded my ponderings by deciding not to pressure myself to stick to one path, but to be an explorer and dabble in whatever interested me at the time. It has worked out well for me as I consider myself a 'jack of many trades' in the field of Computer Technology, where I have a good grasp on some skills, an okay grasp on others, and where I have a main skill in 3D modeling. I have also come to realize that you cannot do it all on your own or be good at everything, which is why I believe in building good teams and I feel very privileged to be a part of some awesome teams.
Is there an achievement or contribution that you are most proud of?
I am extremely proud of being a founder of 4th Dymension and of being a part of a team of skilled, innovative and pleasant individuals. I have played substantial roles in some really exciting projects, and have sparked interest into some talented youth on the island of Montserrat. The company has brought Virtual Reality and 3D printing technology to the island and we have been spreading the word about its usefulness and potential in innovation and everyday use on the island.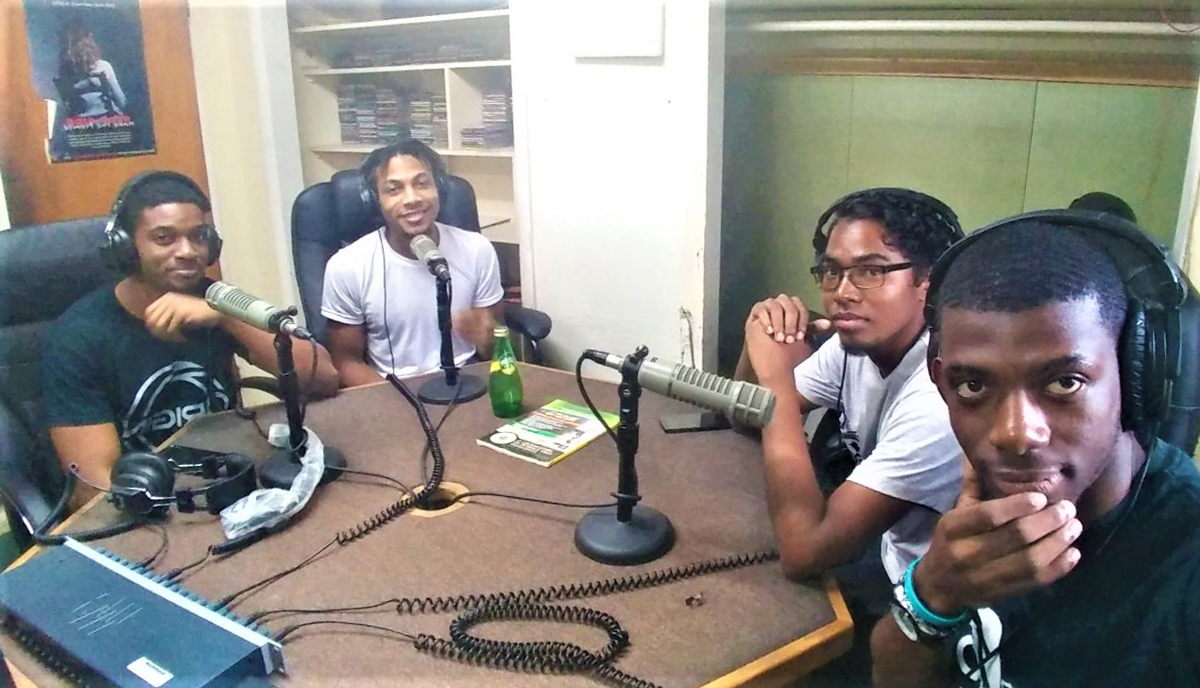 A project that I am particularly proud of is called the Plymouth Recreation Project, where I was involved in mapping and modeling the lost city of Plymouth, in Montserrat, which was destroyed after the onset of volcanic activity which started in 1995. This project allows users to enter the city of Plymouth in virtual reality and walk around as if they were actually there, prior to its destruction. I see this project as a means of cultural and historical preservation, as well as a must see for persons who once lived in and knew the city. I also see it as a way to teach the younger generations of Montserratians and tourists alike about our history through innovative and interactive means. The project has been very well received.
4th Dymension also hosted a Programming, 3D Modeling and Design summer camp in 2018, where I had the role of coordinator and 3D modeling mentor. We taught a group students various team and individual skills involved in software development, some of which went on to intern at our company. The camp was extremely fun and successful and it is something I am very proud of.
I have also taken on a number of leadership roles which I enjoyed. These include being the president of the Visual Arts section of the Towers Performing Arts and Cultural Kaleidoscope, at the ELR Towers Hall at UWI, Mona, as well as being the President of the Montserrat Student Association for a year, also while I attended UWI. These positions, along with being CEO at 4th Dymension, have allowed me to meet inspiring persons from around the world and have motivated me to stay on a track of constant improvement.
I am also proud of achieving a 100% pass rate with the class I taught for O Level CSEC Information Technology!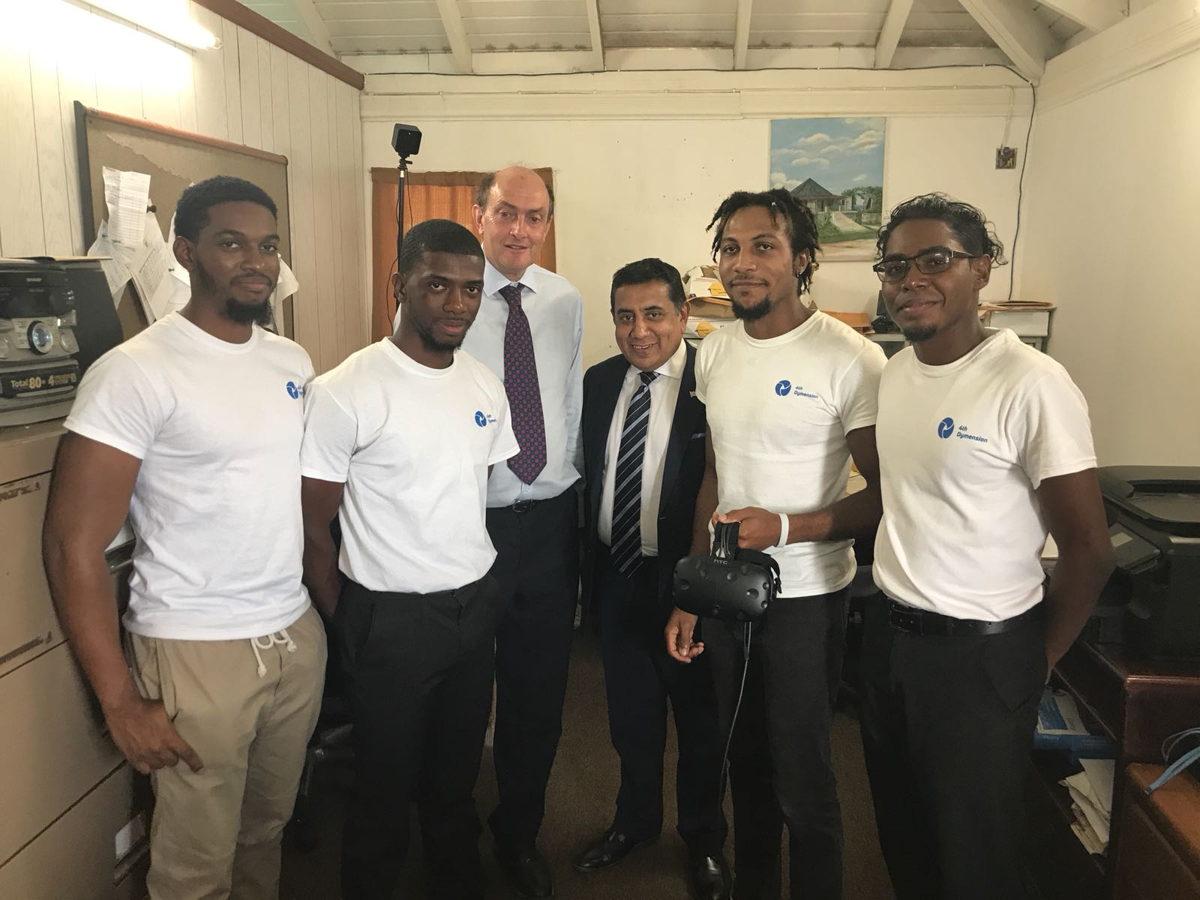 What would you say most motivates you to do what you do?
Knowing that there are so many things that we can do with computer hardware and software motivates me to keep learning and thinking about innovative solutions to problems.
The world is constantly changing, especially in terms of computers. There is no denying that the use of computers has invaded our everyday lives - some of us can't live without our cell phones, laptops or our favorite sites, such as Instagram and Facebook. The use of computer technology has taken over the working world, where we are always striving to transform business processes from inefficient manual processes to streamlined and timely processes using computers, networks, and different software solutions. New fascinating things are always happening in the world of computers - from virtual and augmented reality, to artificial intelligence and machine learning. Knowing that new things are always being developed and implemented motivates me to not only be a part of the process, but to be a pioneer.
I desire to use what I do to change how we live and think, to encourage persons to get in on the action, and to make the world a better place.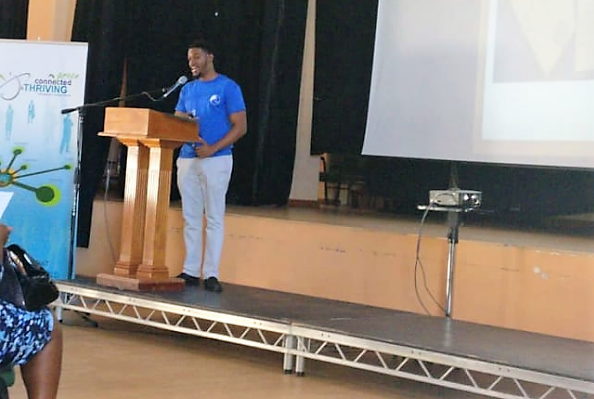 What are the goals you most want to accomplish in the near future?
In the near future I would like to further my studies and earn a Master's Degree in Computer Science.
I also want to advance the business that I am a part of and work on projects around the Caribbean and the rest of the world. As a part of this goal I want to contribute to the advancing of the Caribbean's Computer Science field and demonstrate how we can use different technologies in all facets of the development of our region.

Did you have any key mentors or people who deeply influenced your journey?
My parents, Julian and Christobel Daniel, have always been a source of great encouragement, advice and constructive criticism. They never got annoyed with me always changing what I was interested in, but instead encouraged me to work hard at whatever I was doing. When I was younger, one day I would ask them to buy me drawing books and the next day game development kits - once they knew it was for my learning and development they did their best to support me. They always asked me the hard questions that made me think about what I was doing and how best I could solve different problems. They instilled in me values of patience, critical thinking, exploration and innovation which have greatly enabled me to do the things that I have done to date.
Dr. Samuel Joseph, my math teacher at O Level, physics teacher at O Level and A level, and now mentor and business advisor, has also had a great influence on my journey. He is a founder of the island's first software development company, which was responsible for introducing me to the field of Computer Science. To date he still works with me and encourages me to strive for greatness.
Another huge influence on my journey are the guys I work with at 4th Dymension - Jerely Browne, Dexter Small, Nish Brown and Carlon Braithwaite. They always challenge me to push my abilities to the next level and are a team where I can get feedback on my ideas and where I am exposed to their amazing ideas. We all have different skills that complement each other, as well as perspectives and ideas that do the same. This team is the realization of the phrase "iron sharpens iron".
Another big influence is Miss Veta Wade, Owner of Aqua Montserrat. She has always reminded me of the importance of having a positive attitude and always giving your best.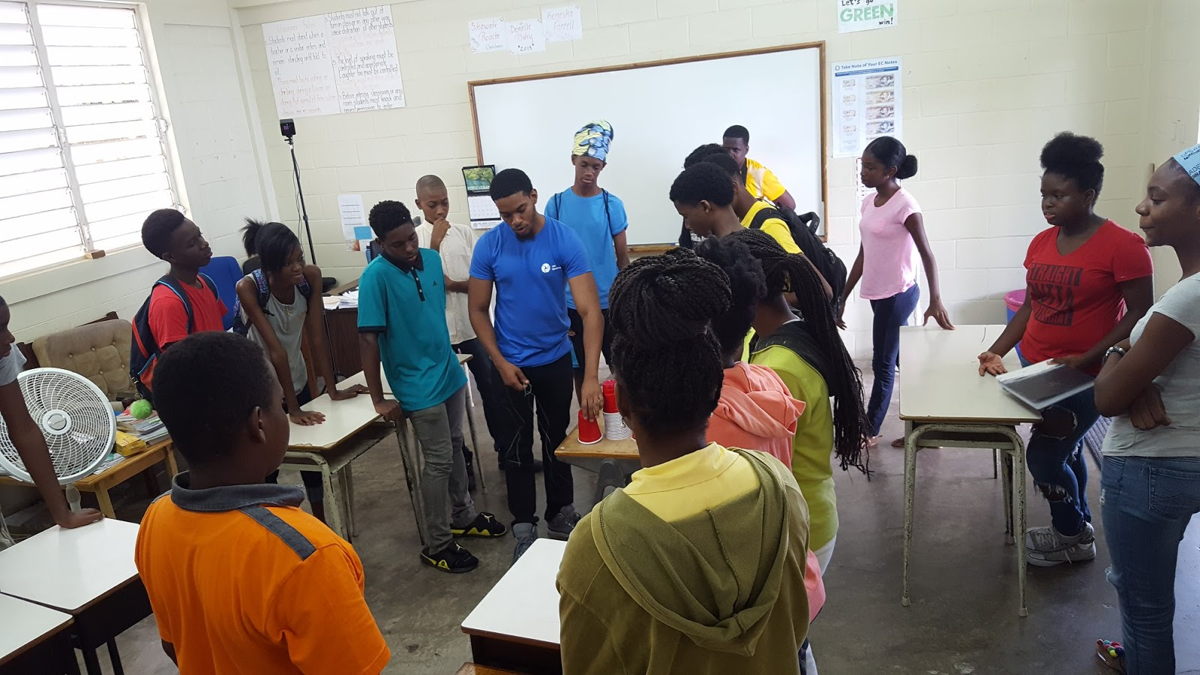 What advice do you have for other Caribbean youth aspiring to get involved whether in computer technology or other areas?
My advice would be to keep an open mind, keep learning and never stop exploring your interests. Do not limit yourself or get caught up on financial gain. I believe that there is always more to learn and I encourage Caribbean youth to strive for the best (with the goal of surpassing the best) in whatever they are interested in doing.
In the field of computers I believe it is of utmost importance to stay updated on what is happening. It is also important to put the things that you learn into practice to sharpen your skills and study the leaders of your practice.
I also believe in surrounding yourself with like-minded, ambitious and hard-working persons in your areas of interest. A good team and strong support goes a long way!
Whatever you do, do it to the best of your ability and present it in a way that shows off the result of your hard work.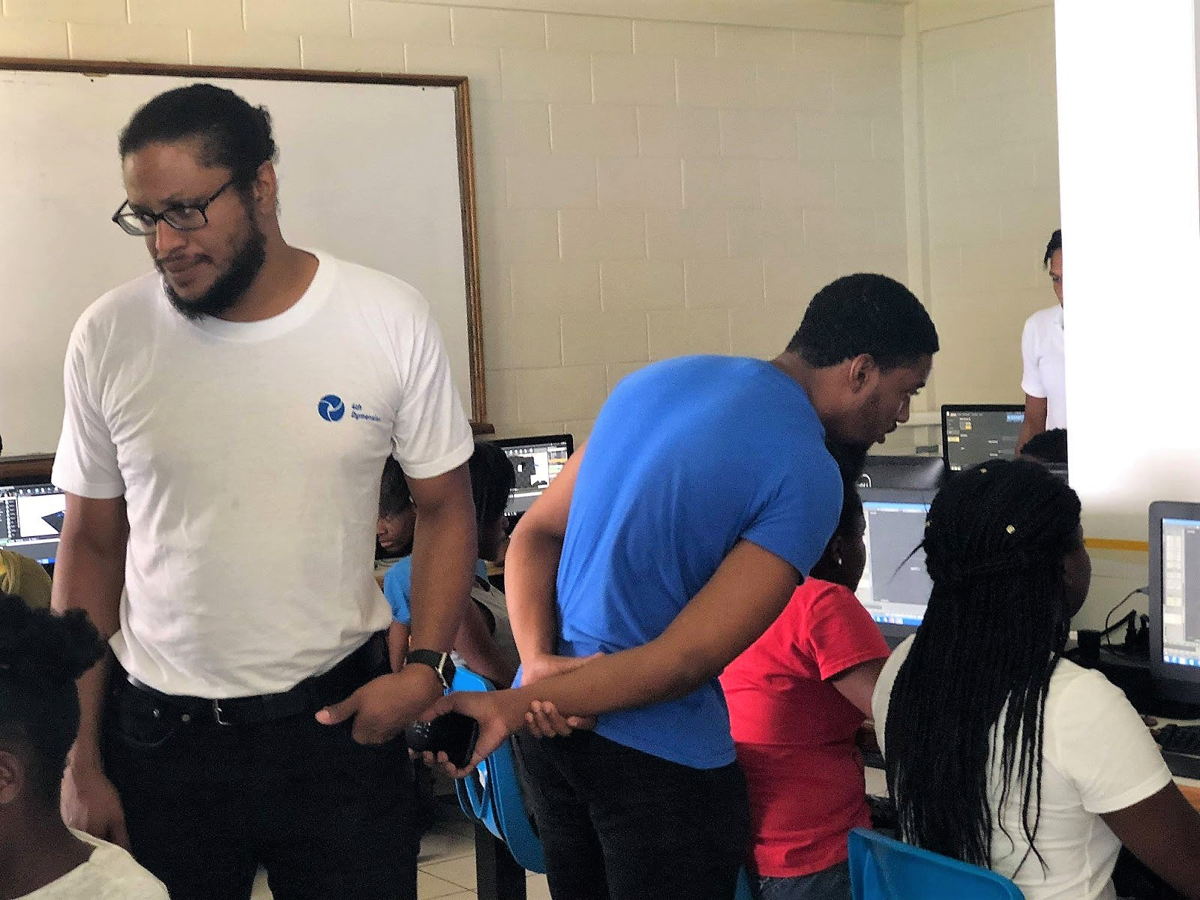 What's next for you? What are you looking forward to?
I will continue to work on taking my company to the next level, and strive to be involved in projects on the island, in the region and the rest of the world. I am looking forward to releasing the Plymouth Recreation Project 2.0, which is currently under development.
Studying for my Master's in Computer Science is another short term goal which I am looking forward to.
I will also continue to sharpen my skills and work to become better at the job that I currently have.
Yoshabel Durand Human and Social Cluster, Organisation of Eastern Caribbean States