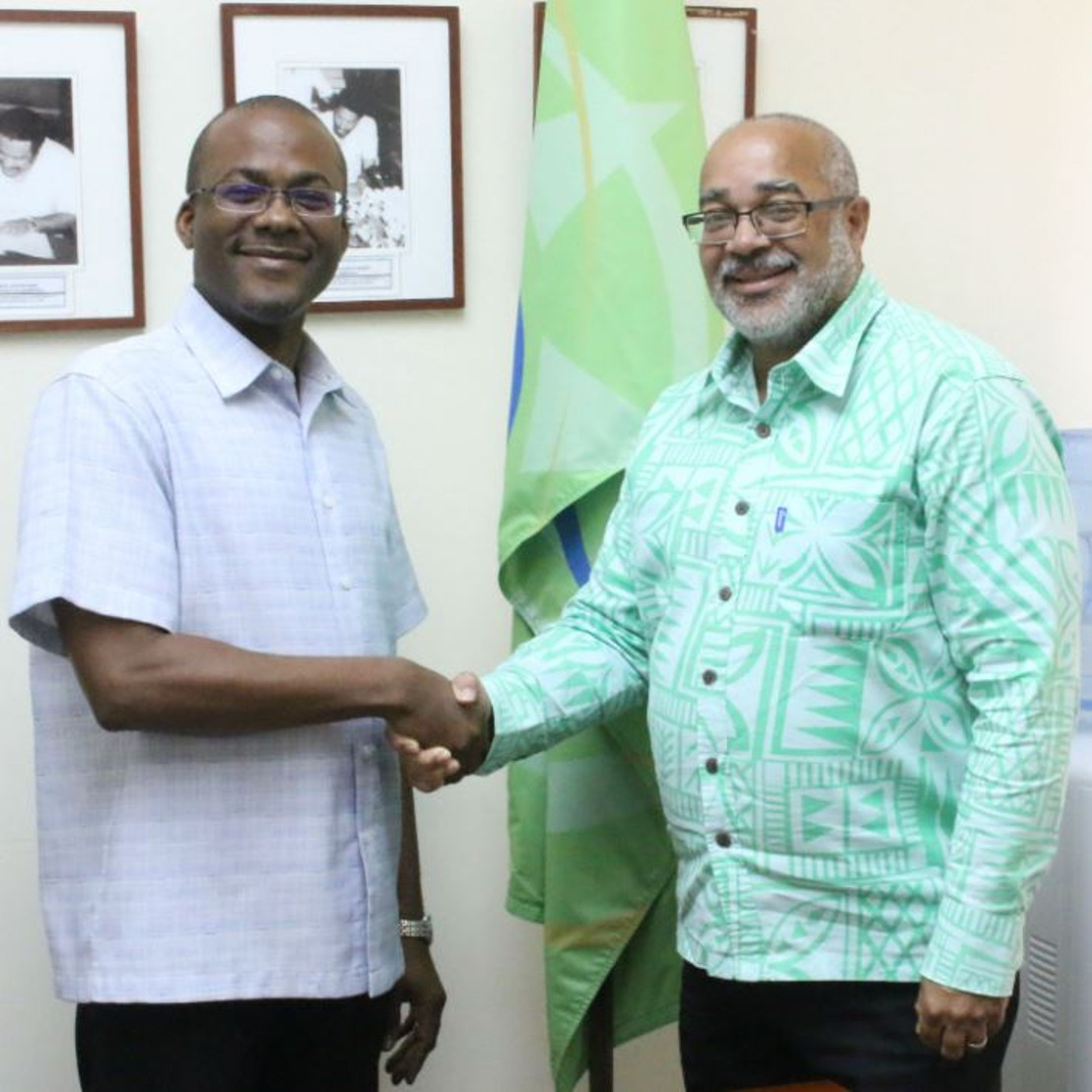 OECS and ARIN Extend Cooperation to Strengthen Caribbean Information and Communication Technology
OECS Commission & American Registry for Internet Numbers (ARIN) Statement
Wednesday, February 7, 2018 — The Organisation of Eastern Caribbean States (OECS) and the American Registry for Internet Numbers (ARIN) have agreed to extend their collaboration to improve the resilience of the Internet and strengthen related technical capacity in the OECS.
Speaking at the end of two days of talks between the organizations at the headquarters of the OECS Commission in Castries, Saint Lucia, representatives from both organizations expressed confidence that the deepening relationship would benefit Internet users and Internet-enabled development in OECS Member States.
This agreement will allow us to converge our efforts to ensure the OECS can draw upon the expertise and services of ARIN. This is significant as it helps to ensure that we develop the type of resilient computer networks that underpin today's interconnected, digitally-enabled economy and society said Dr. Didacus Jules, Director General of the OECS Commission.
"ARIN has a track record as collaborative partner to the Caribbean, and as the body responsible for Internet number resources for our region, we can expect this cooperation to benefit end users through expanded and more efficient Internet services, whether they be IT developers or a household of Internet users.

"We are looking forward to collaborating more closely with ARIN as an international body to develop strategies and practical initiatives to promote the interest and advancement of OECS Member States.

"This will enhance the technical capacity of those responsible for supporting the computer networks that are so vital to our economies and societies" said Dr. Jules.
Bevil Wooding, the Caribbean Outreach Liaison for ARIN said ARIN has a long history of supporting the Caribbean.
"ARIN has supported the region in areas that include Internet number policy development, IPv6 adoption, technical capacity building and public education on the development opportunities that a robust and resilient Internet offers the region.

"We fully expect our work in the Eastern Caribbean to be strengthened by this agreement and applaud the OECS Commission for their unwavering commitment to enhancing ICT development in the region" said Mr. Wooding.
OECS and ARIN agreed to:
identify and actively engage with key national Internet stakeholders including network operators, Internet policy makers and justice sector officers;
create appropriate communication interfaces to support enhanced collaboration and information-sharing, including the identification of thematic areas of common interest in Internet development;
collaborate towards overcoming the barriers and challenges to realising intra-regional cooperation and alignment of national programs with OECS-wide initiatives for Internet development;
share knowledge, experience and best practices on Internet strengthening initiatives, and support national Internet strategies;
closely liaise with existing OECS groups and forums and recognising initiatives already launched in other regions of the world, work towards strengthening the OECS position as the regional Internet pioneer;
The agreement is expected to actively contribute to capacity-building initiatives, research and national strategies.
ARIN and the OECS will together engage in the process of identifying potential synergies and identifying specific areas for collaboration. ARIN has also committed to sharing technical insights in support of the strategic direction of OECS Commission's initiatives and programmes related to Internet numbering, network autonomy and IPv6 deployment.
The collaboration kicks off with a series of free ARIN In The Caribbean training workshops targeting network operators and computer engineers in the OECS. Workshops are initially scheduled for Grenada, Saint Lucia, St Kitts and Nevis, St Vincent and the Grenadines and Dominic over the next three months.
The events will address building autonomous networks, IPv6 deployment, and accessing Internet number resources. Symposia for OECS law enforcement officials on Cybersecurity and for policy-makers on Internet Governance, are also being planned.
The American Registry for Internet Numbers (ARIN) is the Regional Internet Registry (RIR) for Canada, the United States, and many Caribbean and North Atlantic islands. ARIN manages the distribution of Internet number resources, including IPv4 and IPv6 address space and Autonomous System numbers.
OECS Communications Unit Organisation of Eastern Caribbean States