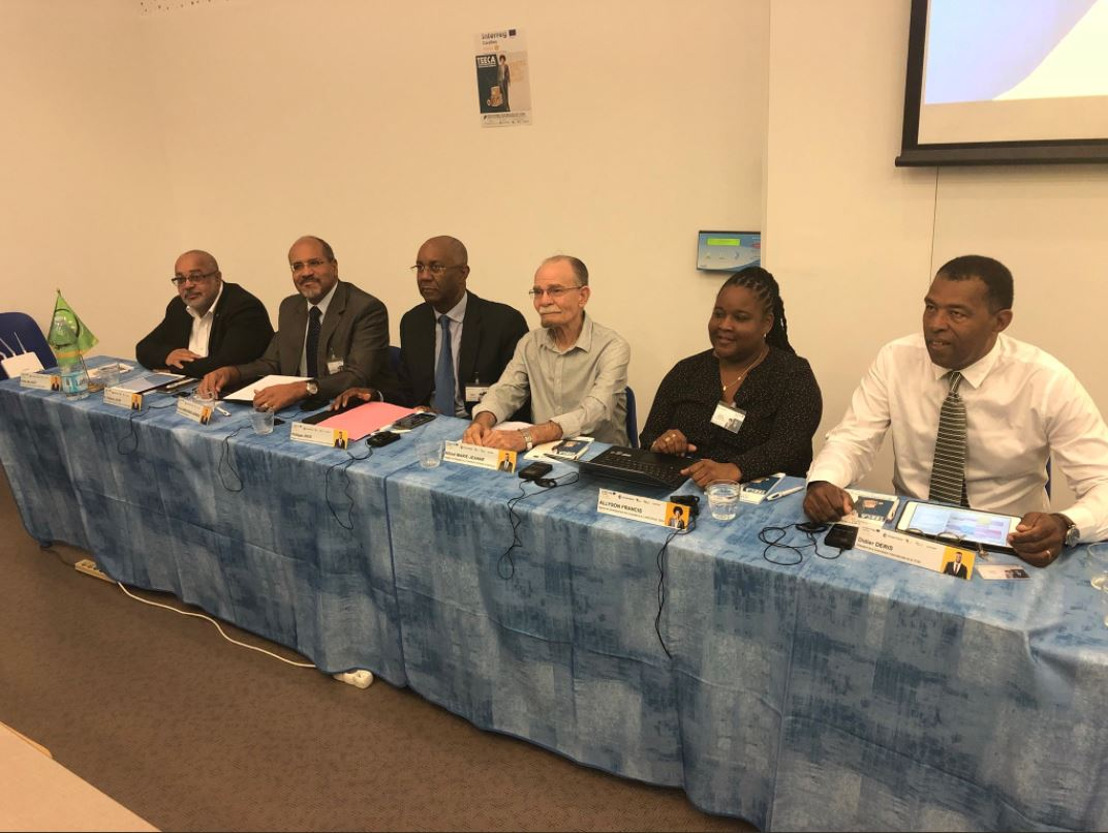 Launch of the TEECA Project: Remarks by OECS Director General Dr. Didacus Jules
Strengthening Business Ties Between Martinique and other other OECS Member States
Wednesday, January 31, 2018 — Remarks by OECS Director General Dr. Didacus Jules at the launch of the Trade Enhancement for the Eastern Caribbean (TEECA) Program.
Today we have come together to launch one of the most significant initiatives in trade since the accession of our sister Martinique to the family of the Organisation of Eastern Caribbean States.
The waters between us can be viewed either as seas of division or as highways of a liquid commerce. In the painful journey of our common history these channels that were freely navigated by our aboriginal ancestors were demarcated by the artificial boundaries of European rivalries. In Kweyol we have a saying "Kout koutla an glo pa ni mak" – "cutlass strokes in water makes no mark". And so boundaries set in water can never remain fixed and history is as fluid as the seas that bind us together.
So this is the process that brings us to this remarkable moment when we must now no longer see the waters as the seas of separation but as the channels of commerce. The goal of this project – the Trade Enhancement for the Eastern Caribbean – is to facilitate integration and trade between Martinique and the rest of the OECS through exchanges, the establishment and reinforcement of commercial partnerships between private sector companies and the shaping of strategies that will make us collectively competitive. The Jamaican reggae icon Buju Banton has reminded us that "it's a competitive world for low budget people; spending a dime but earning a nickel". The TEECA Project seeks to build those partnerships that will pool our competencies and create the economies of scale that will enable us to hold our own in a world of relentless and brutal competition.
A total of thirty companies from Martinique and the rest of the OECS will be selected to participate. They will be chosen from strategic niche sectors such as information and computer technology, agro-processing, eco/green industries and the creative industries. The selected companies will be provided with technical assistance and capacity building to overcome some of the current barriers which exist between Martinique and the rest of the OECS. Not the least of these barriers is the language barrier – formal business requires formal language and unfortunately our linguistic policies have not evolved to accept the reality of our common Kweyol heritage so we of Dominica and St. Lucia together with our Anglophone OECS relatives must master commerce in English and in French.
Another important dimension of this project is the Youth Entrepreneurship Challenge which will facilitate exchange and cooperation among youth entrepreneurs in the OECS.
We are particularly excited about this aspect of the project since we are clear that the hunger for innovation and the appetite for risk is strongest among the English and French youth of the OECS. Last year, without a single Euro, we launched the OECS 30 Under 30 Youth Entrepreneurs.
Thirty adventurous youth from all Member States (2 of whom were from Martinique) were selected from over 100 nominations and they have been struggling valiantly to keep together as a group; to share experiences, advice and to keep hope alive. We have not been able to provide the major resources that they have needed to move their businesses to a higher level of operation. But we are determined not to let them down. We expect that this project with the support of our other partners – the Martinique Chamber of Commerce and Caribbean Export – we will be able to fuel their dreams and fire their ambitions.
As excited as we are about this initiative, I must indicate our concern and recognition that this project does not represent a total and holistic answer to the multifaceted challenges faced by our entrepreneurs.
Building that culture of entrepreneurship in the OECS, that will enable our start-ups to grow and succeed, is going to require much more than technical assistance. It will require access to affordable finance. It will involve investment promotion, training and certification, research and market intelligence, advocacy, and export promotion and development. It will require the removal of all impediments to the ease of doing business and this in turn will mean that we must be prepared to also provide the same or even better incentivization provided to foreign direct investors to our own people.
It will require that agencies in the OECS and in the wider Caribbean whose focus is on business and entrepreneurship must converge their efforts to create a wider and more secure cushion of support rather than continue to duplicate and compete for brand advantage. It is necessary for us to have a frank dialogue and establish an effective division of labor between business development entities at the national, sub-regional and regional levels that will seamlessly facilitate the graduation of businesses from start-up to take off, from small scale to big time.
We are therefore calling on all business support organizations whose mission includes the OECS to join hands with us in a collective endeavour and we are heartened that Caribbean Export is extending the hand of cooperation in what we hope will be a lasting partnership with a more balanced allocation of support to the OECS.
All of us who are participating in this TEECA Project must resolve to make this an exemplary success. Resources are too scarce, too precious and too needed to be wasted – they must be effectively used, judiciously expended, and must optimize their value across the regional spectrum.
This launch is only a symbolic expression of our common intent and aspiration; it is for us: the Martinique Chamber of Commerce, the OECS Commission and Caribbean Export to make this a reality. In this endeavour we will need the active support of our private sector and we urge all entrepreneurs of the OECS to take up the challenge of this opportunity.
Beverly Best Head of Development Cooperation and Resource Mobilization, OECS