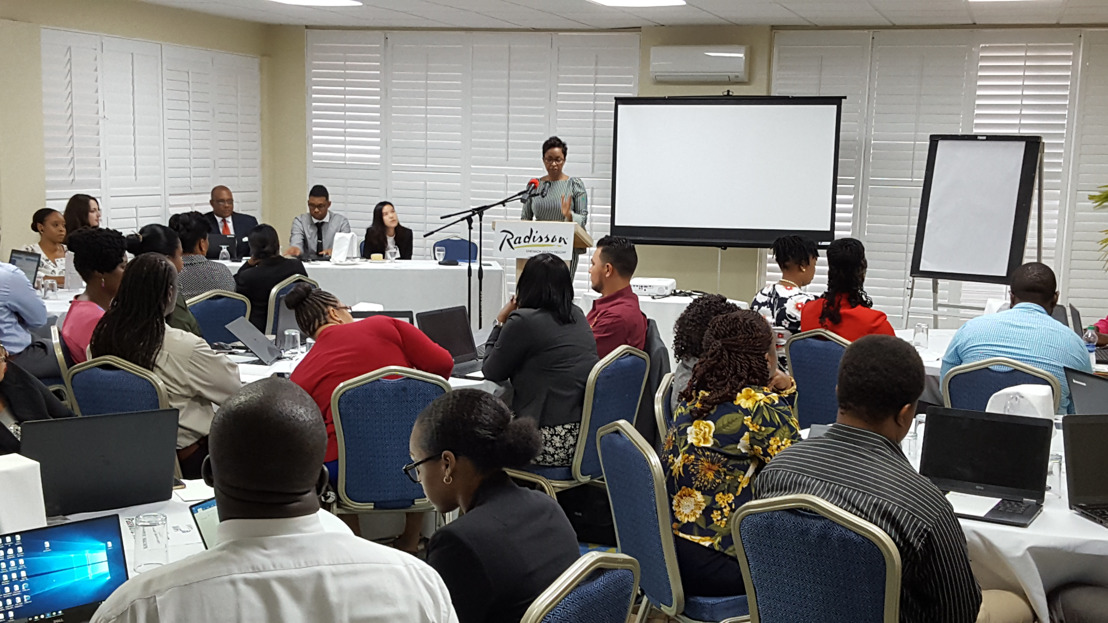 Improving data collection and dissemination in the Eastern Caribbean
Wednesday, March 28, 2018 — The OECS Member States and the OECS Commission benefitted from a Data Dissemination Workshop held from 19 to 23 March 2018 at the Radisson Beach Resort in Grenada.
The workshop was organised in response to requests from the national statistics offices (NSOs) for support to disseminate data while protecting the identity of survey respondents. The treatment given to microdata to remove respondents' identifiable characteristics is called anonymisation.
The workshop featured a combination of theoretical and practical sessions, providing participants with tools and techniques to anonymise the data and disseminate for public use.
In her opening remarks Dr. Gale Archibald, Head of the Statistical Services Unit, at the OECS Commission encouraged participants to apply the training provided as they are now equipped to finally disseminate much more statistics from household surveys and censuses to satisfying requests from data users.
There is a growing demand by analysts and academia to access microdata for research and to produce statistical knowledge products. The small population size of the OECS countries presents risks of jeopardizing confidentiality if disseminated statistics can be used to identify a person or household.
Mr. Halim Brizan, Director of the National Statistics Office of Grenada, in his opening remarks stated that the workshop was quite timely as the OECS countries prepare to undertake their country poverty assessment, continue to administer their labour force surveys and put measures in place to monitor the SDGs.
The workshop was organised by the OECS Commission in collaboration with the World Bank and the Caribbean Development Bank (CDB). Its objectives are captured in the OECS Regional Strategy for Development in Statistics (RSDS).
| | |
| --- | --- |
| | This story aligns with OECS Strategic Objective No.5: Drive Key Economic Priorities. |
Abiola Sandiford Statistical Services Unit, Organisation of Eastern Caribbean States
Ramon Peachey OECS Communications, Organisation of Eastern Caribbean States