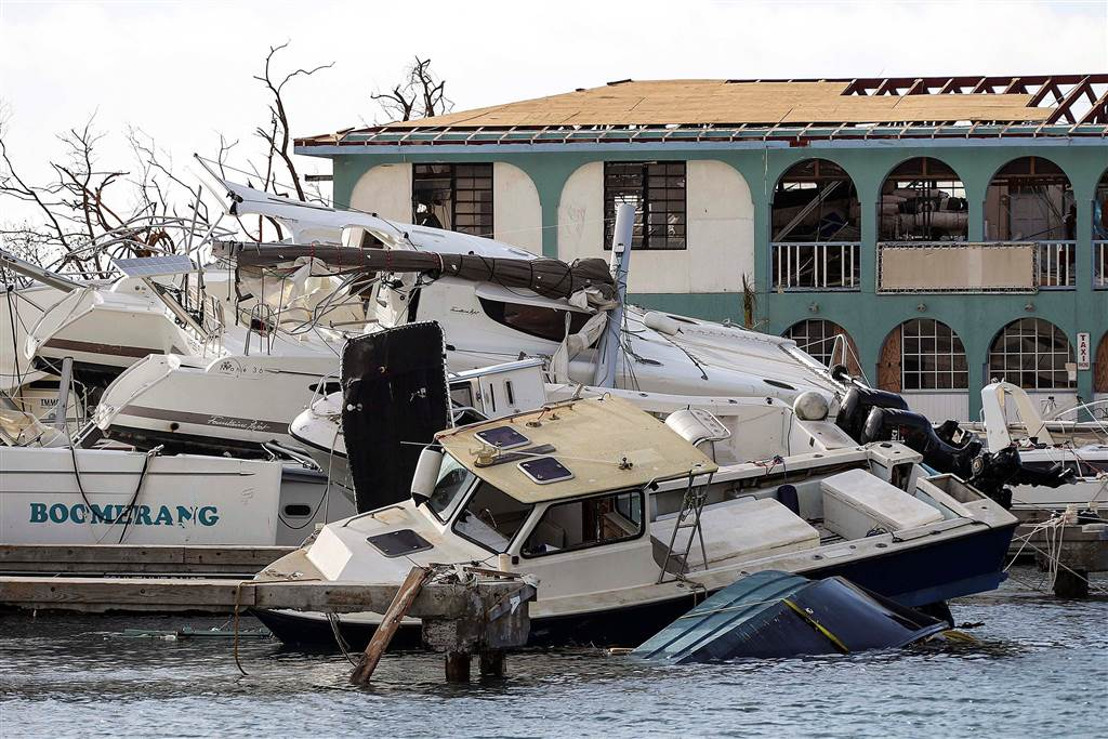 Department of Disaster Management of the British Virgin Islands - Situation Report 001
Wednesday, September 13, 2017 —
1. The event
Hurricane Irma a destructive category 5 impacted the Territory on September 6, 2017 with winds of 185mph causing widespread damage to the road infrastructure, housing stock, ports, telecommunications, electrical infrastructure and critical facilities. The Morning Briefing for Hurricane Irma was held with key government and private sector officials on September 4 and the NEOC was then activated following the aforementioned briefing.

His Excellency Governor Augustus Jaspert declared a State of Emergency on September 7, 2017.

A curfew order was established for the hours of 6pm to 6am effective September 8th, 2017.
2. Current situation NEOC
HEALTH SERVICES AND FACILITIES:
There have been 7 confirmed deaths and an indeterminate number of injured persons. The hospital is functional. There has been minimal impact to the new Peebles Hospital. The annexe has sustained some damage.
HOUSING STOCK
Preliminary assessment indicated that 60-80% of the buildings throughout the Territory are damaged or destroyed with a large percentage of the building roofs being severely compromised.

CONSIDERATION FOR TEMPORARY HOUSING
Save the Seed in Duffs Bottom has a large cistern, Diesel Generators, good floor space. There is a need to evaluate its condition to receive shelteerees.
Multi-purpose Sports Complex in Road Town can accommodate a large numbers of displaced persons but the roof has to be fixed and a back-up power generator would need to be prepositioned.
AIRPORT OPERATIONS:
The communications equipment in the tower at Terrance B Lettsome International Airport on Beef Island is destroyed. The administrative office is also destroyed and the terminal has sustained some flooding damage. In addition, the fire hall and hangers have also sustained damage. The runway remains intact on Beef Island as well as on Anegada and Virgin Gorda.
In order to provide for immediate relief needs for the Territory, the BVI Airports Authority has allowed access to traffic bringing emergency and relief purposes ONLY up to 5:00 pm daily.
However, the request for landing at the Terence B. Lettsome International Airport must be coordinated since landing is to being done manually. Permission to land must be email bviddmirma@gmail.com. This communication should include in the manifest:
The category number and aircraft type,
Aircraft registration number,
Aircraft Point of origin,
The number of persons on board
The names of persons on board
The nationalities and dates of birth of passengers
Nature of relief goods being transported
PORTS OPERATION:
The Port Purcell seaport is available to accept vessels. The shipments must be coordinated through the NEOC to receive authorization to enter.
The BVI Ports Authority's main warehouse, West End seaport and Road Town seaport terminals have sustained damage. The Royal Virgin Islands Police Force is currently providing security support for the Port warehouse and terminals.
VIRGIN ISLANDS FIRE AND RESCUE SERVICES:
The East End Fire Station was damaged but the main appliances were secure.
Local search and rescue teams were dispatched.
The Fire Service is performing district drive thru to provide information to persons in the place of a fully functional communications system.
HM PRISONS:
HM Prison structure was severely compromised. There is roof and security fencing damage. The prison was breached with all 150 prisoners escaping. An indeterminate number of prisoners returned on their own accord, while others stayed to assist in the community restorative efforts.
ROYAL VIRGIN ISLANDS POLICE FORCE
Armed security personnel were deployed and assigned to the airport (for the arrival of relief supplies), the hospital, supermarkets, shelters, passport office and some government agencies.
The RVIPF have identified Maria's by the Sea as a possible housing for families who have been severely affected by the Hurricane.
ELECTRICITY:
Generation, transmission and distribution infrastructure has been severely damaged.
Electricity is only being provided through generators.
BVIEC is working to provide power to critical facilities in Road Town including hospital.
There is a possibility of being ale to restore power to Anegada in the coming days.
WATER
Piped water facility is not functional due to the lack of electricity
Limited stock of potable water available
RFA Mounts Bay is providing a limited supply to Virgin Gorda and Jost Van Dyke.
TELEPHONE
CCT is not functional.
Digicel has coverage only in Road Town and has an assessment and reconstruction crew into the Territory (September 8th).
Flow has sporadic coverage throughout the Territory.
5 cell sites are set up in Road Town, Kingston, East End, Belle Vue and Carrot Bay.
PUBLIC WORKS
Road infrastructure have been severely damaged. Heavy Equipment operators have been deployed to all districts and have been working to clear roads to at least single lane traffic.
District 1 : Roads cleared by community
District 5 : 3 deaths, roads impassable,
District 7: Every home damaged and roadways were cleared, 2 deaths confirmed
District 8: Heavy Equipment operators are clearing by community
VOLUTEER SERVICES
The BVI Red Cross has reported that they have received various relief requests from the Spanish speaking community. They are also supporting the search and rescue team and they have made contact with the British Red Cross on possible relief supplies from Panama.
HMS MONTS BAY
Limited medical supplies have been provided to the hospital including:
Antibiotics
Pain relievers
Hypertension tables
Stiches
Bandges
IV
The ship also provided 3 tons of water and 25 case of water for Virgin Gorda.
A HMS Ocean Military ship is also on the way from Bermuda and will arrive in the Territory following the passage of Hurricane Jose.
SHELTERS/TEMPORARY ACCOMMODATION
Approximately (351) Persons are being accommodated in ten (10) temporary shelters throughout the BVI.
106 persons were evacuated from Anegada prior to impact.
Long Trench Community Centre (16 adults and 9 children)
St. Georges Anglican Church (100)
Francis Lettsome Primary School (40)
Claudia Creque School - Anegada
New Testament Church of God (100)
Church of God of Prophecy – Long Look (30-40)
Zion Hill Methodist Church – West End (5)
Cane Garden Bay Community Centre (2)
Cane Garden Bay Methodist Church
Rainbow Home (Lower Estate) (12)
Catholic Community Centre – Virgin Gorda
North Sound Methodist Church – Virgin Gorda
Cedar School Internationl (22 Adults 5 children)
SISTER ISLANDS
Anegada: No loss life. Generators available on island and specific personnel have SAT phones to ensure communication.
Virgin Gorda: Heavy Impact in North sound.
Jost Van Dyke: Many homes have been damged on JVD. Assistance is needed for food and water.
Smaller Islands: Peter Island, Mosquito and Necker Island, Gunna, Camanoes, Scrub Island all experienced some level of damage.
COMMUNICATIONS
District Representatives were task with identifying runners to get messages in the districts.
The NEOC is making use of nearby radio stations to carry messages.
A communications plan with targeted messaging is in place.
Efforts are being made to re-establish VHF communications
HF Communications is available through the BVI Amateurs
FM emergency communications is available from the NEOC.
Internet access is available and emails can be sent to bviddmirma@gmail.com
Social Media is active.
IMMEDIATE NEEDS
Food
Water jugs
Water
Water purification tablets
Tarpaulin
Poles, transformers, lines, CARILEC crew, heavy equipment to support replanting and line construction
Security Personnel
4 phased generators (ZBVI included)
2 by 4, Ply wood (170 needed for JVD)
Satphones
Chainsaws, hand tools and wheel borrows
Wood Chippers
Metal Compressors
Nails
Saws
Fuel Pumps
Cots
Repeater antennas
Mobile repeaters
Hand held radios
Flashlights
Batteries
Printers
Laptops for LSS/SUMA and NEOC
Blankets
Health

Linens
Towels
EMT Kits
Ambulances

Adina Donovan roof to be fixed