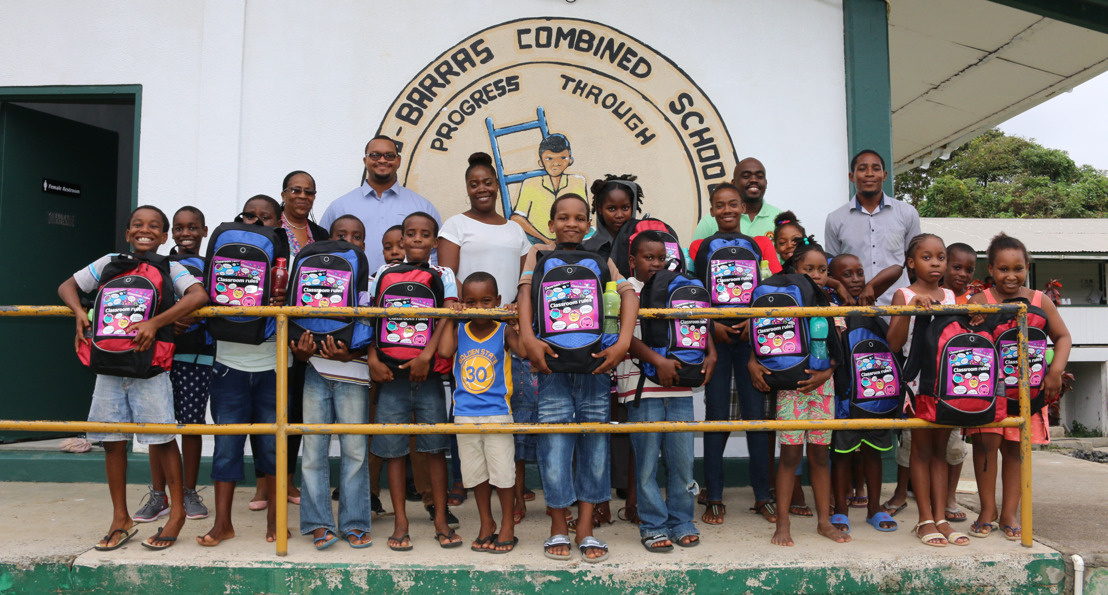 Supporting Education in Developing Communities
OECS Commission donates school supplies and backpacks to Adopted School
Monday, September 3, 2018 — In preparation for the new school year, a delegation from the OECS Commission visited the Des Barras Combined School in Babonneau, Saint Lucia to deliver school supplies and backpacks donated through staff contributions.
The Des Barras School, the Organisation's adopted school, was selected because of its remote location and the recommendations from staff to support this community.
Mrs. Josette Edward-Charlemagne, Programme Officer in the Environmental Sustainability Cluster, and Ms. Sally-Ann Alfred, Paralegal Officer in the Legal Unit, have been working with staff to revive the relationship with the school which was established approximately ten years ago.
"It has been some time since we made a contribution to the school and we thought the start of the new school year was the perfect opportunity to get the staff at the Commission involved in this community activity."

"Through our backpack drive, we were able to raise funds to provide new backpacks filled with school supplies to families that need it most."

"We understand that through this small donation, and with the right tools, we are helping the students to succeed in school. This support also takes some burden off of the parents as they have one less thing to worry about," Mrs. Edward-Charlemagne said.
Principal of the Des Barras Combined School, Mr. Ezra Joseph, thanked the staff of the OECS Commission for the welcomed gesture at the start of the new school year.
"We are extremely grateful that the staff of the OECS decided to visit the Des Barras Primary School, to provide some of our students with such a lovely token of friendship."

"We know that not all of our parents are able to provide our students with the necessities and so we are extremely grateful to the OECS and its staff."

"Such initiatives don't come all the time and so, when it does happen there is an immense feeling of gratitude on the part of the school, the parents and the students," Mr. Joseph said.
| | |
| --- | --- |
| | This story aligns with OECS Strategic Objective No.4: Assure the Security and Well-being of Citizens. |
Josette Edward-Charlemagne Environmental Sustainability Cluster, Organisation of Eastern Caribbean States
OECS Communications Unit Organisation of Eastern Caribbean States