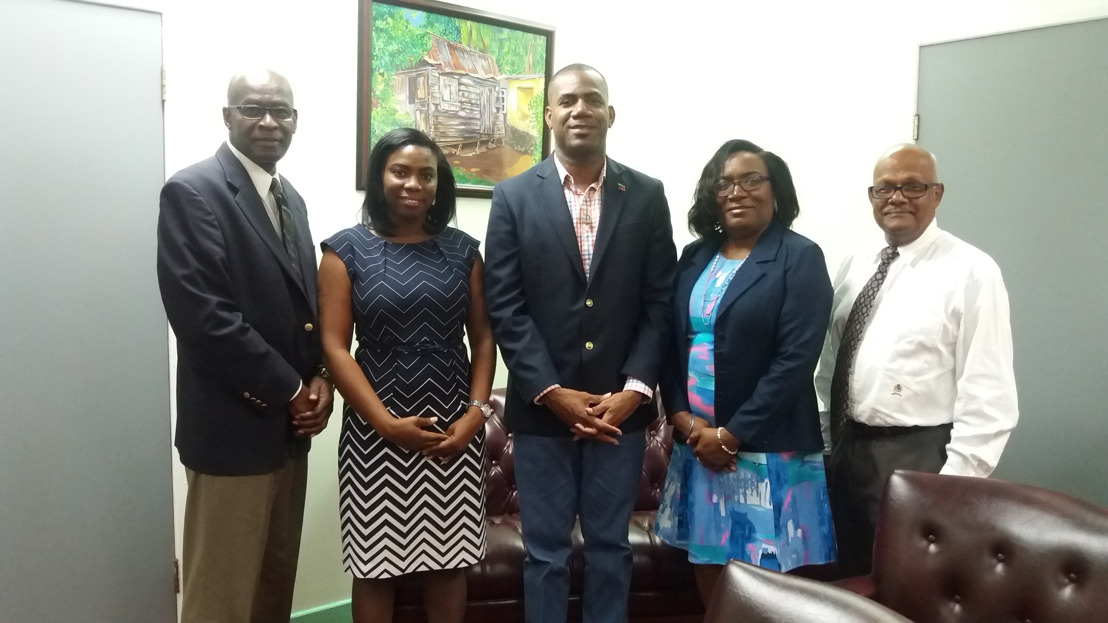 Stakeholders in St. Kitts & Nevis sensitised about the Eastern Caribbean Institute of Tourism
OECS Media Release
Thursday, February 16, 2017 — An OECS delegation, comprising the Tourism Specialist and the Network of Excellence for Tourism & Hospitality Training & Education's (NETHTE) Strategic Plan Consultant, met with over forty (40) key officials in the Federation of St. Kitts & Nevis last week to enhance their knowledge of the OECS NETHTE project and secure stakeholder support.
Among the persons engaged at the meeting were Minister of Education and Deputy Prime Minister of St. Kitts & Nevis, Hon. Shawn Richards; the Permanent Secretaries in the Ministries of Education and Tourism in St. Kitts & Nevis; the Executive Director of the St. Kitts & Nevis Hotel & Tourism Association; the Board of Directors and staff of the Clarence Fitzroy Bryant College (CFBC); senior officials from the Ministry of Sustainable Development; the Department of Continuing Education; and hoteliers.
The Eastern Caribbean Institute of Tourism (ECIT) is conceptualised as an integrated system, characterised by centres of specialisation operating respectively in Hospitality Training Institutes in each OECS Member State. Each Member State will specialise in a niche area in Tourism and Hospitality that reflects the respective comparative advantage of each destination.
St. Kitts & Nevis will specialise in: Tourism Events & Attractions Management. Professional attractions management (of natural, cultural or manmade attractions) is of great importance to the Federation and the region, as tourism develops beyond sun, sea and sand. Training is needed for meeting planners, conference managers, festival & event organizers and to train people involved in a range of cultural, sporting, leisure, recreational, culinary and business events.
St. Kitts & Nevis has one of the largest hotels in the region, which can accommodate several simultaneous events. The St. Kitts Marriott Resort & The Royal Beach Casino has 392 rooms and 38,000 square feet of meeting space in nine rooms. St Kitts & Nevis also has some unique historical sites that can host outdoor-tented events, such as Brimstone Hill Fortress, the largest fort in the Caribbean, and Romney Manor. The Federation also boasts a newly constructed eco-park, which is the largest of its kind in the OECS.
The meetings concluded with the full commitment of stakeholders to continue support in the establishment of the ECIT and the involvement of CFBC as a significant partner within the ECIT network.
The OECS NETHTE project is being implemented with funding support from the European Union through its 10th EDF programme on Economic Integration and Trade of the OECS region.
Dr. Lorraine Nicholas Head, Tourism Unit , Organisation of Eastern Caribbean States
Phillip Cupid OECS Communications, Organisation of Eastern Caribbean States
Ramon Peachey OECS Communications, Organisation of Eastern Caribbean States
Tahira Carter OECS Communications, Organisation of Eastern Caribbean States