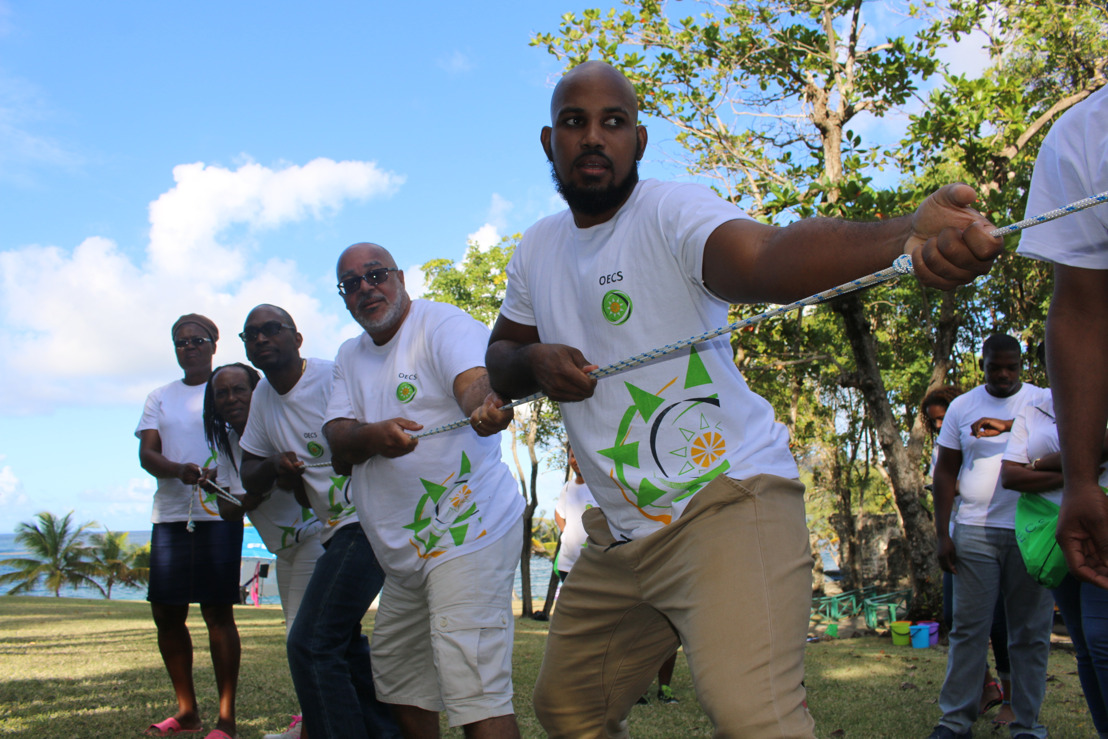 Staff of the OECS Commission embrace Team Beliefs and new Recognition Programme
OECS Commission
Tuesday, February 19, 2019 — As a new year initiative and in a continuing effort by the Commission of the Organisation of Eastern Caribbean States to reinforce the organisation's core values, the Human Resource Unit hosted an offsite staff retreat aimed at improved employee collaboration and ownership of the OECS brand on February 1, 2019. This exercise was also carried out simultaneously in the Organisation's external offices in Roseau, Dominica; Toronto, Canada; and Brussels, Belgium.
At the Head Office in Saint Lucia, the day's activities began with an invigorating session of yoga which was quickly followed by games such as a Treasure Hunt, Tug of war and other collaborative tournaments.
Staff were split into groups of five (5) representing the five Team Beliefs of the Organisation:
Be the Change
Win Together
Sign your Name
Decide Courageously
Walk the Talk
The group exercises were designed to improve team building, leadership and accountability in a fun atmosphere and resulted in a successful day for the OECS Human Resources Unit and the employee body as a whole.
The new OECS Rewards and Recognition Programme, boasting an internal social media platform, was also launched during the staff retreat.
Head of the OECS Human Resource Unit, Gale Jean Baptiste, explained the rationale and process for the new programme.
"Everyday staff of the Commission continue to deliver exceptional work across the organisation. In so doing we often forget to stop and recognise the contributions of our staff. Over the last few months, the OECS Total Rewards Focus Group have worked incredibly hard in putting together a recognition programme, which we believe will provide us with the platform to publicly recognise our peers and our managers for the work that we continue to do in the organisation."

"The tool will allow us to give points, which will become prizes and will range from everything from a half a day of leave, to a simple thing like a cake or a dinner for two. It is not about the prizes, however, it is about the recognition of the work that we do across the OECS."
OECS Director General, Dr. Didacus Jules, implored members of staff to make use of the new tool which provides a simple way to recognise star employees that go above and beyond by "living" our team beliefs.
"It is up to us to drive this new initiative, and I encourage everyone to be a part of this exciting new space which speaks loudly to our values and team beliefs." said Dr. Jules.
| | |
| --- | --- |
| | This story aligns with OECS Strategic Objective No.5: Align and strengthen the institutional systems of the Commission to effectively deliver its mandate. |
OECS Communications Unit Organisation of Eastern Caribbean States