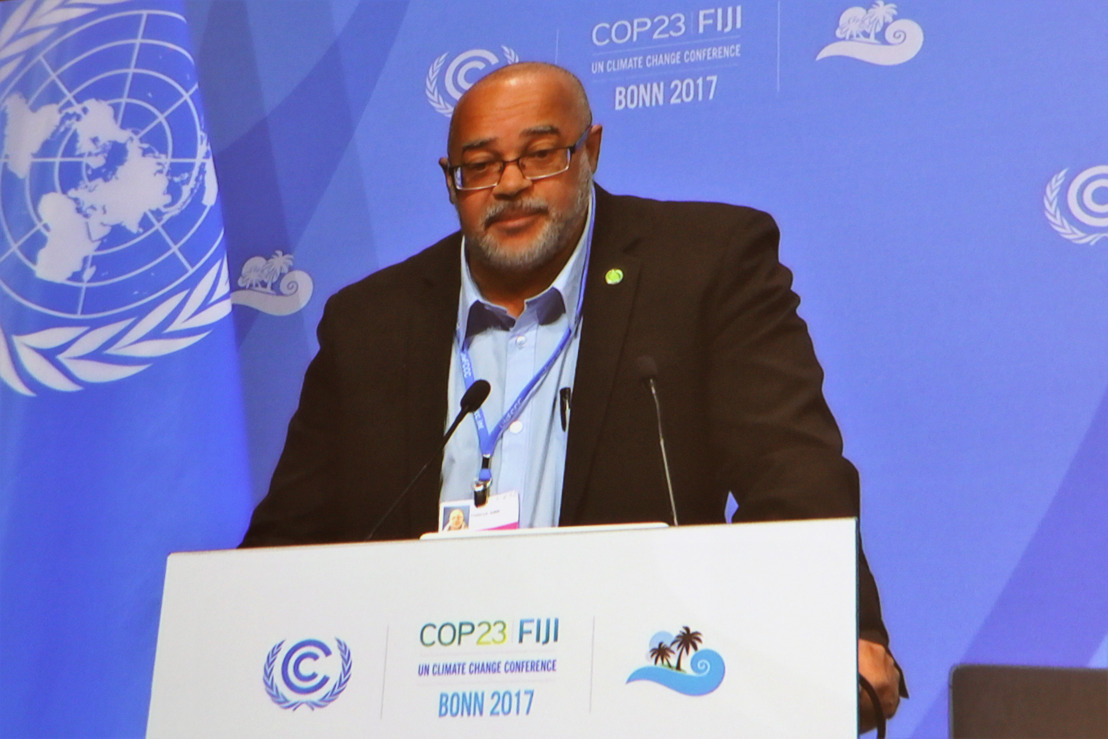 Remarks by OECS Director General at the 23rd Session of the Conference of Parties (COP23)
OECS Media Release
Friday, November 17, 2017 — Address by H.E. Dr. Didacus Jules, Director General of the Organisation of Eastern Caribbean States, to the Plenary of the 23rd Session of the Conference of Parties (COP23) on Thursday, 16 November 2017 in Bonn, Germany.
Mr. President,
Historically the Caribbean has been at the crossroads of the crossing of civilizations and today in this era of climate change, we find ourselves in the frontline. We are the first barrier against the chaos of climate that is unleashing destruction, depravation and death across all geographies. We find ourselves – as Prime Minister Skerrit of Dominica warned us – the victims of a war that we did not start but which we are obligated to end.
The Eastern Caribbean States comprise a cohesive grouping of ten small island developing states. Our combined population of one million persons are honest, hardworking, welcoming people, not statistics. Yet, ironically, the pain and suffering visited on them by the hurricanes of 2017 can best be summarized in numbers:
Six (6) category 3 to 5 hurricanes traversing the region in 2017 represent a terrifying escalation of catastrophe in our small space;
Five OECS member states directly impacted by the most dangerous of these hurricanes.
That we are small does not make us insignificant; that we are insular does not make us isolated. The size and scale of our destruction, damage and loss in this season of pain may not be readily appreciated by those who are bigger and richer. But perhaps if we scale up our loss to your parameters you will grasp the comparative magnitude of our pain:
29 lives were lost in Dominica with a population of 70,000. Every life matters but if this hurricane was visited on India, the corresponding scale of lives lost would have been 3.2 million souls!
More than 30 persons are still missing from Hurricane Maria. Scaled to Japan, this would have been the equivalent of 292,100 missing persons
The estimated damage and losses in Dominica 1.3 billion US dollars or 200% percent of GDP, would equate to US$5.6 trillion had this been the United Kingdom
Every one of the 1,400 inhabitants of Barbuda had to be evacuated. Had this storm hit Florida with the same results as Barbuda, this could have meant the evacuation of all 20.6 million Florida residents.
Maybe we are overdramatizing the reality but human tragedy on any scale is tragedy despite the numbers, nationalities, or ethnicities. The COP23 narrative would be different had the same pain been inflicted with equal intensity and scale in any more populous, or wealthier jurisdiction.
Our challenge is not only climate-change fueled hurricanes but also in the longer term, sea level rise, coral bleaching and decreasing precipitation.
Even a 1.5 degree increase in temperature will be problematic for us and climate change parameters exceeding the global average will continue to cause catastrophe. The flow of climate finance to the region is neither adequate nor speedily distributed.
The negotiations must produce more balance in the response to climate change, greater mitigation ambition from the fire starters, quicker progress and more accessible financial support for taking climate action.
I end, Mr. President, with the words of Martin Luther King:
"We are now faced with the fact that tomorrow is today. We are confronted with the fierce urgency of now. In this unfolding conundrum of life and history, there is such a thing as being too late. This is no time for apathy or complacency. This is a time for vigorous and positive action."
Thank you.
OECS Communications Unit Organisation of Eastern Caribbean States