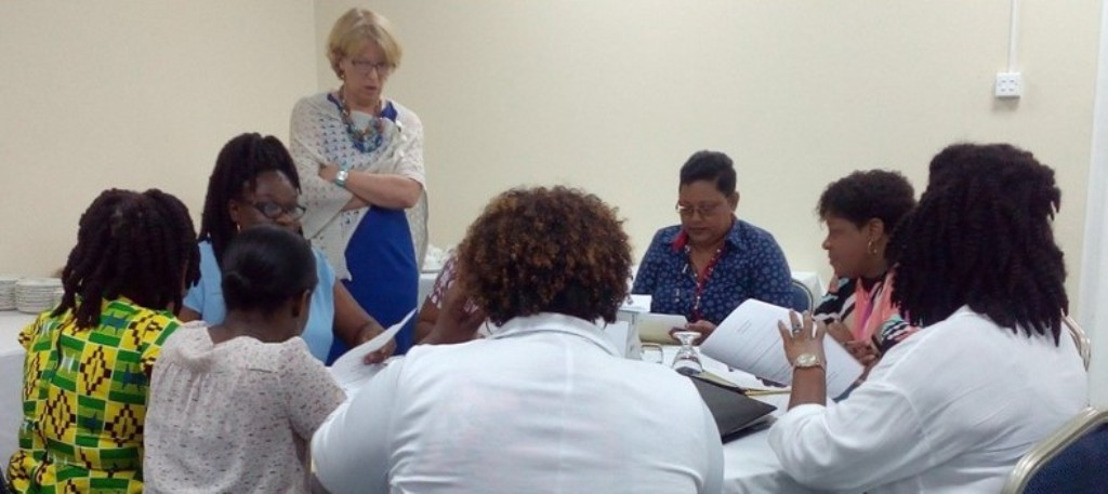 OECS/USAID Early Learners Programme Builds Capacity Among the Region's Literacy Experts
OECS Media Release
Thursday, June 29, 2017 — More than sixty (60) educators from the OECS gathered in St. George's, Grenada from 19 – 23 June, 2017 to explore current best practices in literacy development. The OECS/USAID Early Learners Programme worked with educators to address essential aspects of policy and practice in an effort to improve the reading levels of all learners at the early primary level (Grade K to Grade 3).
Workshop participants were educators who have been designated as leaders in the OECS/USAID Early Learners Programme (ELP). This group consisted of literacy experts whose focus is on Grade K to Grade 3, teacher educators and education assessment specialists.
Led by a team of international and regional reading, assessment and linguistic professionals, educators were split into two specialised groups to better address the material to be covered during the five-day training session.
The first group of literacy experts focused on key topics such as:
strategies for language acquisition;
developing a balanced approach to the teaching of reading;
effective coaching and mentoring methodologies;
using classroom based assessment to support student growth; and
effective use of the curriculum to support national learning outcomes.
A second group of twelve (12) educators specialised in the development and interpretation of classroom based assessment. This group worked together to develop meaningful reading passages that could be used to assess students' reading at the Grade 2 level; a critical state in reading development when many students become disengaged.
The participants worked together to develop questions that would permit consistent interpretation and provide teachers with the information to differentiate their teaching based on the reading levels of their students.
Mr. Rafer Gordon, Reading Specialist for the ELP Division of the Education Development Management Unit of the OECS Commission, said the workshop provided participants with additional tools to continue their important work in literacy development.
"This workshop created a forum for leaders from the region to develop comprehensive strategies and processes to enable them to continue the enhancement of reading in the countries that they serve."

"We are witnessing, through these leaders, a transformation in reading instruction in the six countries impacted by the ELP," Mr. Gordon said.
The OECS/USAID Early Learners Program (ELP) is a reading development programme for young learners. It is administered by the OECS Commission with funding from the United States Agency for International Development (USAID).
The six beneficiary OECS Member States in which the ELP is being implemented are Antigua and Barbuda; Dominica; Grenada; St. Kitts and Nevis; St. Lucia; and St. Vincent and the Grenadines.
Natalie Johnson Project Coordinator, Early Learners Programme, Organisation of Eastern Caribbean States
Rafer Gordon Reading Specialist, Early Learners Programme , Organisation of Eastern Caribbean States
OECS Communications Unit Organisation of Eastern Caribbean States