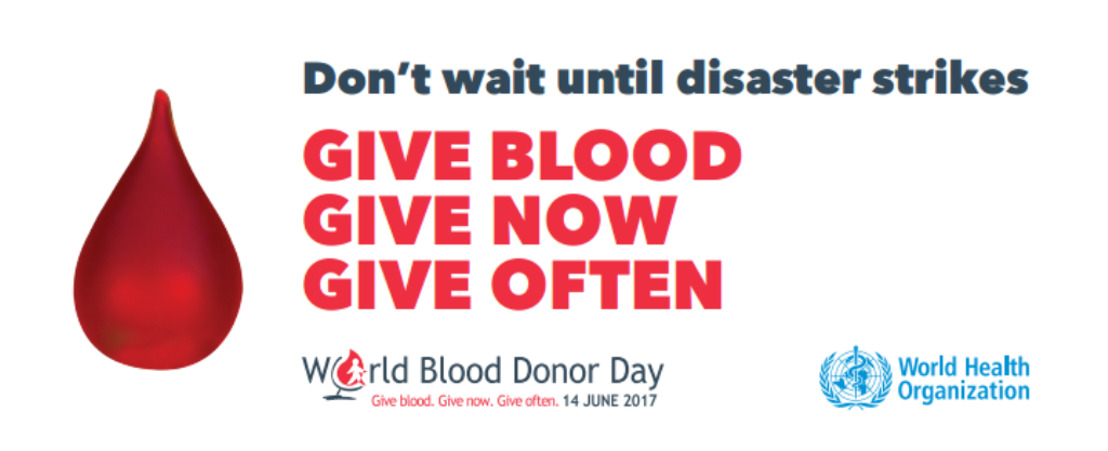 OECS Recognises World Blood Donor Day
OECS Media Release
Wednesday, June 14, 2017 — The OECS Commission observes World Blood Donor Day today, June 14th, under the theme "Don't wait until disaster strikes. What can you do? Give blood. Give now. Give often."
In the OECS Region, our susceptibility to hurricanes, earthquakes and other natural disasters means that we have to be prepared for response in the case of an emergency. Beyond natural disasters, any mass casualty event such as a multi vehicle crash, an industrial accident, a fire or any other manmade disaster can put a strain on the availability of blood.
In the region, for the most part, we have replacement and family donation of blood. This means that family and friends give blood when someone is in need or replace blood that has be given to family or friends.
While there is an increase of voluntary donation on World Blood Donor Day, blood is needed all year round and has a limited shelf life. The current supply of blood is generally not enough, the OECS Health Unit therefore encourages the general public to become regular voluntary blood donors, and not wait until there is an urgent need.
It must also be noted that while blood transfusions can be life saving, and the blood supply is screened for all major transmittable diseases, there is still a need to be judicious and only use blood when needed to minimise risks, including transfusion reactions.
In honour of World Blood Donor Day today, the Ministry of Health in St. Lucia will be conducting an award ceremony for the recognition of the persons who have selflessly given the gift of life — blood. A plaque, donated by the EMT Association of St. Lucia, will be awarded under the categories of most consistent blood donor, oldest blood donor and youngest blood donor from 2015 -2016 at the Victoria Hospital staff lounge.
The International American University College of Medicine (IAU), in association with the St. Jude Hospital Blood Bank Service, is also organising a Blood Donation Drive in front of IAU Campus in Vieux Fort from 9:30am today.
For tips on healthy blood donation, please click here.
Dr. Carlene Radix Head, Health Unit, Organisation of Eastern Caribbean States
OECS Communications Unit Organisation of Eastern Caribbean States