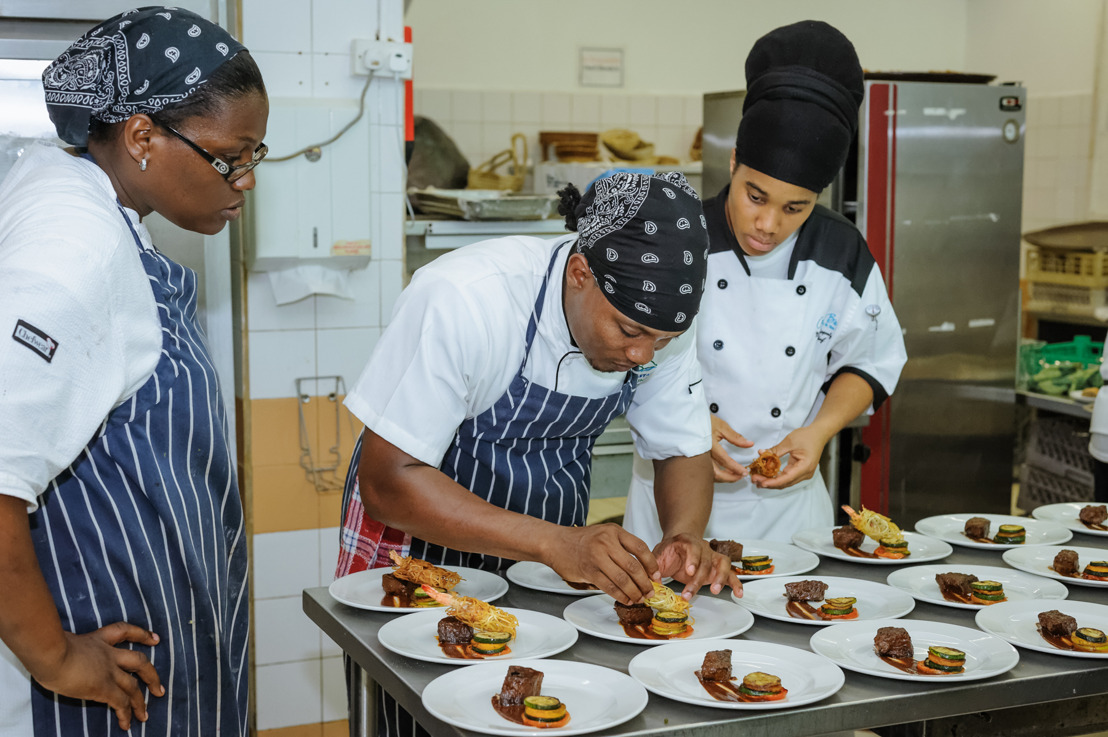 OECS NETHTE Project to strengthen Hospitality Training in the Region
Grenada to specialise in Culinary Tourism Training
Wednesday, March 22, 2017 — A series of meetings on the OECS Network of Excellence for Tourism & Hospitality Training & Education (NETHTE) project, took place in Grenada from March 15 - 17, 2017. An OECS delegation comprising the Tourism Specialist and the NETHTE Strategic Plan Consultant, engaged over forty (40) key officials in Grenada to promote and secure 'buy-in' for the OECS NETHTE Project, which gave birth to the establishment of the Eastern Caribbean Institute of Tourism (ECIT).
Among the persons met were Senator, the Honourable Simon Stiell, Minister of State with responsibility for Human Resource Development and the Environment (responsible for the T.A. Marryshow Community College), the Permanent Secretaries in the Ministries of Education and Tourism, the Executive Director of the Grenada Hotel & Tourism Association, the Chief Executive Officer of the Grenada Tourism Authority, the Chief Executive Officer of the National Training Agency, the Principal and Staff of the T.A. Marryshow Community College (TAMCC), and some hoteliers. Senator Stiell described the NETHTE Project as 'an excellent idea' and underscored the importance of involving the private sector in the Project.
The NETHTE is conceptualised as an integrated system, characterised by centres of specialisation operating in respective Hospitality Training Institutes in each OECS Member State. Each Member State will specialise in training in a niche area of Tourism and Hospitality that reflects the comparative advantage of the destination.
Culinary or Food Tourism is defined by the World Food Travel Association as: The pursuit of unique and memorable eating & drinking experiences, both near and far. Culinary tourism creates synergy between the food, beverage and travel industries and is a way of bringing together economic and community development through the tourism value chain. Gastronomy is the art or science of good eating, and focuses on styles of cooking, as of a particular region. Gastronomy will create the opportunity for students to acquire the knowledge and skills required for the preparation of a variety of cuisines such as Caribbean, the Americas, Asian, Indian, African, and European.
Grenada is known as the Spice Isle, and so, this specialisation reinforces the destination's image. Dining out is very important for all tourists. In terms of importance of destination attributes, food is believed to rank alongside climate, accommodation, and scenery.
The Grenada meetings concluded with renewed commitment to continued support in the operationalisation of the NETHTE Project by key stakeholders and the reiteration of the involvement of TAMCC as a significant partner within the network of institutes. Mrs. Marlene Abraham-Finlay, representative of TAMCC, is the Chairperson of the regional ECIT Implementation Task Force.
The OECS NETHTE Project is being implemented with funding support by the European Union, through its 10th EDF programme of Economic Integration and Trade of the OECS Region.
Dr. Lorraine Nicholas Tourism Specialist, Organisation of Eastern Caribbean States
Tahira Carter OECS Communications, Organisation of Eastern Caribbean States
Ramon Peachey OECS Communications, Organisation of Eastern Caribbean States
Vincent Lewis Communications Consultant, Organisation of Eastern Caribbean States