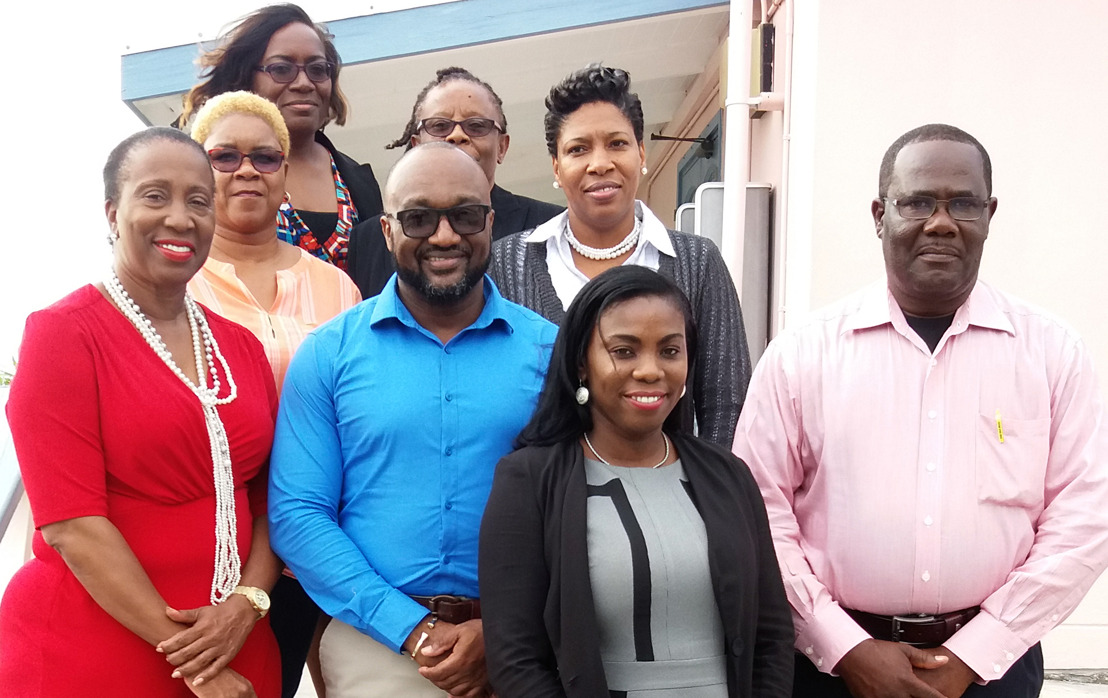 New Board of Directors at Antigua & Barbuda Hospitality Training Institute sensitised about Eastern Caribbean Institute of Tourism
OECS Media Release
Monday, December 12, 2016 — An OECS delegation, comprising the Tourism Specialist and the Strategic Plan Consultant for the Network of Excellence for Tourism & Hospitality Training & Education (NETHTE), met with key officials at the Antigua & Barbuda Hospitality Training Institute (ABHTI) last Thursday.
A first meeting was held with the recently appointed, Interim Acting Executive Director, Ms. Violet Lake; and the Chairperson of the ABHTI Board of Directors, Ms. Shirlene Nibbs. This was followed by a meeting with and presentation to the ABHTI's Board of Directors on the Eastern Caribbean Institute of Tourism (ECIT).
ECIT is conceptualised as an integrated system, characterised by centres of specialisation operating respectively in Hospitality Training Institutes in each OECS Member State. Each Member State will specialise in a niche area in Tourism and Hospitality that reflects the respective comparative advantage of each destination.
Antigua & Barbuda is aggressively seeking to position the country as a mid to high-end tourist destination. For this, and several other factors considered during the development of the Strategic Plan for the ECIT, Antigua & Barbuda will specialise in: Luxury Accommodation Services & Management. This specialisation includes courses on butler training, etiquette and protocol; and other exclusive services aimed at preparing young people, or certifying experienced workers, for work at luxury resorts, villas, yachts, or private jets. This specialisation is unique to the Caribbean region.
The ABHTI, located in Dutchman's Bay, Antigua & Barbuda, is the only stand-alone Hospitality training institute in the OECS. The facility includes a full-service restaurant which is open to the public for lunch, along with a training hotel room, bar and kitchen.
Antigua and Barbuda, through ABHTI and in partnership with the private sector, already possesses the resources, including college facilities and adjunct lecturers, to deliver this specialisation. Notwithstanding, some trainers/instructors would need to be trained in butler skills and other unique areas identified within this specialisation that would be offered. The OECS NETHTE project will also provide the necessary funding support to upgrade the existing facilities to a purpose-designed luxury suite, and state-of-the-art kitchen and bar for the required teaching purposes.
Thursday's meetings concluded with the ABHTI Board of Directors' full commitment to continued support in the establishment of ECIT and the involvement of ABHTI as a significant partner within the ECIT network. The new Board of Directors was only established one week ago.
The OECS NETHTE project is being implemented with funding support by the European Union through its 10th EDF programme on Economic Integration and Trade of the OECS region.
Dr. Lorraine Nicholas Tourism Specialist, Organisation of Eastern Caribbean States
Ramon Peachey OECS Communications, Organisation of Eastern Caribbean States
Tahira Carter OECS Communications, Organisation of Eastern Caribbean States