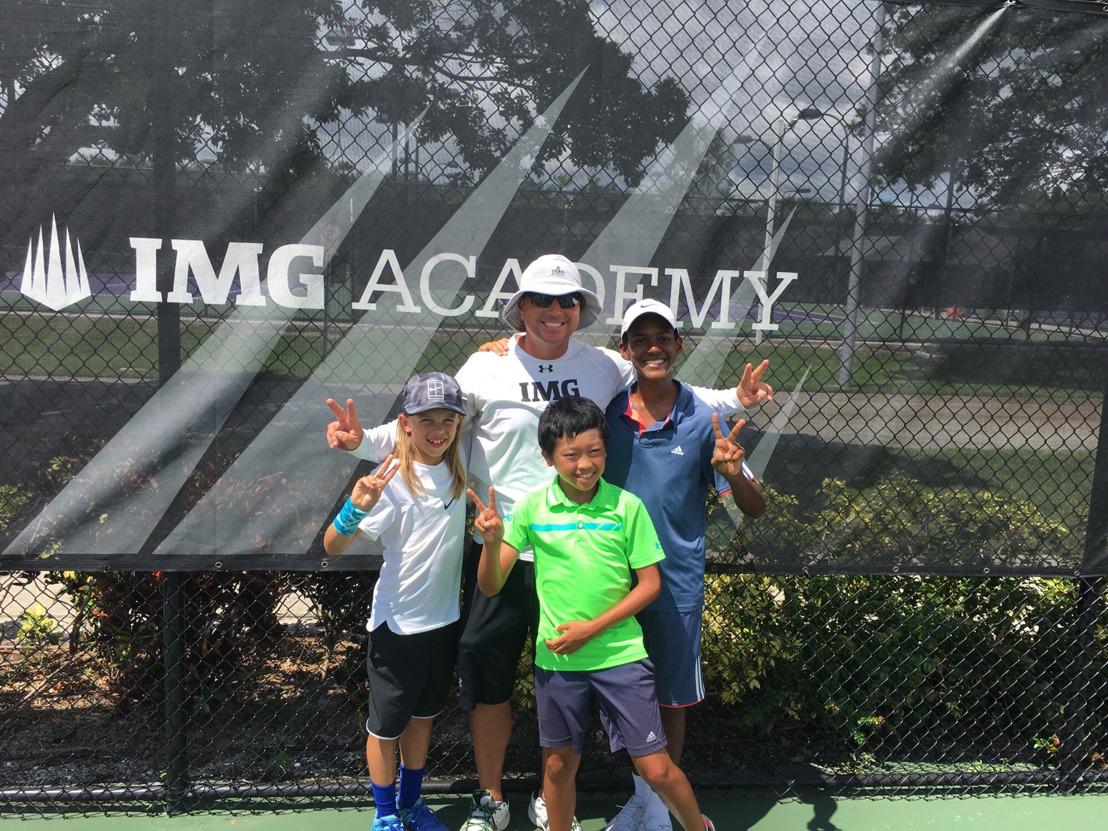 Miami Open Partnership Provides Opportunities for BVI's Aspiring Athletes
Four Scholarships Available for BVI Youth to Attend Elite Miami Sports Camp
Friday, June 8, 2018 — Tortola, British Virgin Islands, June 7, 2018 – The British Virgin Islands Tourist Board (BVITB) in partnership with the prestigious U.S. based sports institution IMG Academy, is accepting applications for four aspiring BVI athletes to attend a "Week Youth Core Sport Camp". Several of the professional tennis players who played at the 2018 Miami Open, are alumni of IMG Academy.
For more than 30 years, IMG Academy has helped countless youth, adult, collegiate and professional athletes realize their full potential in life and in sport. Today, the Bradenton, Fl.-based campus attracts 30,000 athletes from nearly 100 countries annually. IMG Academy offers youth camp and academy programs in a variety of sports, as well as athletic and personal areas of development. Additionally, IMG Academy offers training programs for professional athletes, teams and leagues from around the world.
Known to be "the world's leading integrated academic and athletic training establishment", the BVI TB is happy to serve the community by collaborating with IMG Academy and providing scholarships that will positively impact the lives of four athletes.
Director of Tourism, Sharon Flax-Brutus said, "Sports tourism is an avenue to generate new opportunities in tourism and strengthen our tourism education programmes. Through our partnership with the Miami Open as the Caribbean Destination Sponsor, the BVI Tourist Board is pleased to provide this opportunity for youth of the BVI, to develop their skills with the aid of professionals".
Angel George, a recipient of an IMG scholarship in 2017 excitedly reported, "Going to IMG Academy has been an amazing, life-changing experience for me. During the week camp, I improved my tennis skills with daily coaching and games. I made new friends and I represented the BVI with pride".
A second recipient of the IMG Scholarship specializing in baseball, J'coi Liburd was chaperoned by his coach Mr. Terry Chinnery.
Mr. Chinnery with expressions of gratitude for the opportunity to attend said, "IMG Academy was an amazing experience. The athletes were motivated and learned a number of techniques from the intensive professional training."
---
The athletic scholarships offer training that includes Elite Coaching, Total Development Methodology, Accommodations, Professional-Quality Facilities, Technology and a History of Results. Scholarships this year are being offered for baseball, basketball, tennis, and track and field.
The deadline to apply is June 28, 2018. Please submit completed applications to RaeNisia Scatliffe at the BVI Tourist Board at:
IMG ACADEMY SCHOLARSHIP
3rd Floor, Geneva Place
Road Town, Tortola,
British Virgin Islands VG 1110
Application forms can be collected from the BVITB or downloaded from: www.bvitourism.com/img.
Requirements to attend the camp are as follows:
CRITERIA
In awarding this scholarship, candidates must fulfil the following criteria:
Candidate must be a British Virgin Islander between the ages of 10 - 18
Must possess a BVI passport and eligible for travel to the USA
Must have a GPA of 3.0 or higher
Must provide two (2) references (Personal and Professional)
Candidates must be in good physical health and must be able to provide medical documentation to that effect
The Candidate must be of good character as they will represent the BVI
Proof of Health Insurance Coverage
Must be able to travel between August 1, 2018 – September 1, 2018
GENERAL GUIDELINES
Scholarship recipient can select from Baseball, Tennis, Basketball and Track and Field
Not redeemable for cash or private lessons
Program cannot be changed, shared, or adjusted
Additional programs and nights will be charged at full retail price, payable by scholarship recipient.
Valid for one year (only) from issued date. Certificate must be presented at check-in.
All forms must be completed and approved prior to arrival
Transferring of certificate must be in writing from the original recipient of the certificate with the return of the original so that a new certificate may be processed.
Chandi Trott Research Consultant, BVI Tourist Board