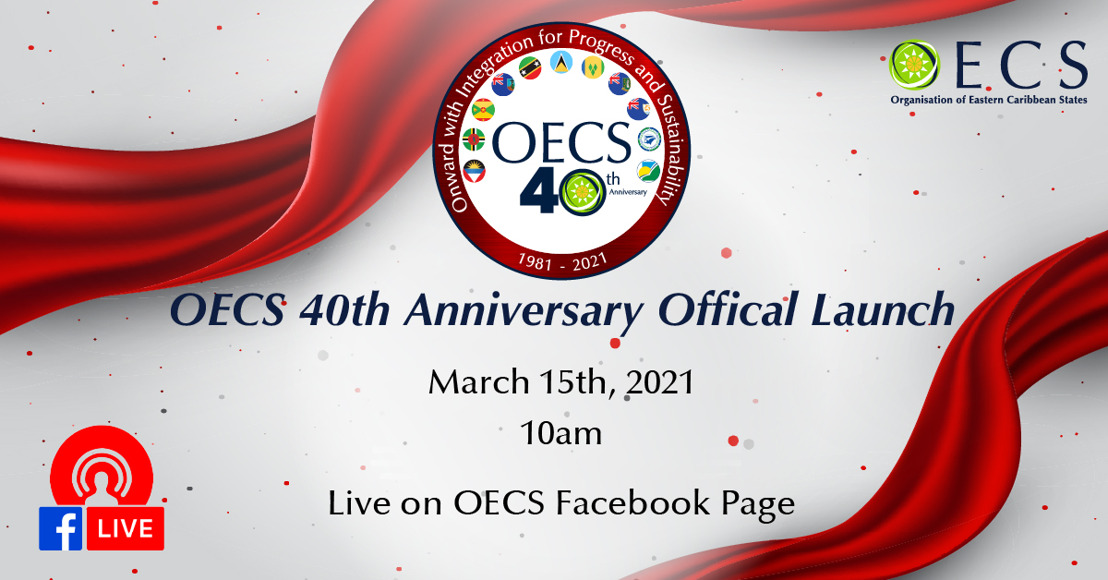 [Media Alert] OECS 40th Anniversary Official Launch
Press Invitation
Thursday, March 11, 2021 — The Organisation of Eastern Caribbean States (OECS) Commission in partnership with the Government Information Service (Saint Lucia) will host the virtual official launch of the OECS 40th Anniversary.
The media is invited to attend.
WHEN: Monday, March 15th 2021 at 10am.AST
WHAT
The Organisation of Eastern Caribbean States (OECS) was established by the 1981 Treaty of Basseterre, revised on June 18th 2010, establishing an OECS Economic union. The OECS region now boasts a membership of eleven countries comprising; Antigua and Barbuda, the Commonwealth of Dominica, Grenada, Montserrat, the Federation of St. Kitts and Nevis, Saint Lucia and Saint Vincent and the Grenadines as protocol Member States; with Anguilla, Guadeloupe, Martinique and the British Virgin Islands as Associate Members.
On June 18th 2021 the orgnaisation will celebrate 40 years of integration. This integration movement of Caribbean islands continue to present immense opportunities for sustainable growth and prosperity for OECS Member States and by extension its people.
The launch will present an overview of the planned events and activities as well as the theme and logo for the 40th Anniversary celebration.
The agenda includes remarks by:
Hon. Roosevelt Skerrit, Chairman, OECS Authority
Dr. Didacus Jules, Director General, OECS
WHO SHOULD ATTEND:
The media
General public
WHERE
The launch will be live-streamed on:
Loverly Anthony Senior Marketing Specialist, Organisation of Eastern Caribbean States
OECS Communications Unit Organisation of Eastern Caribbean States