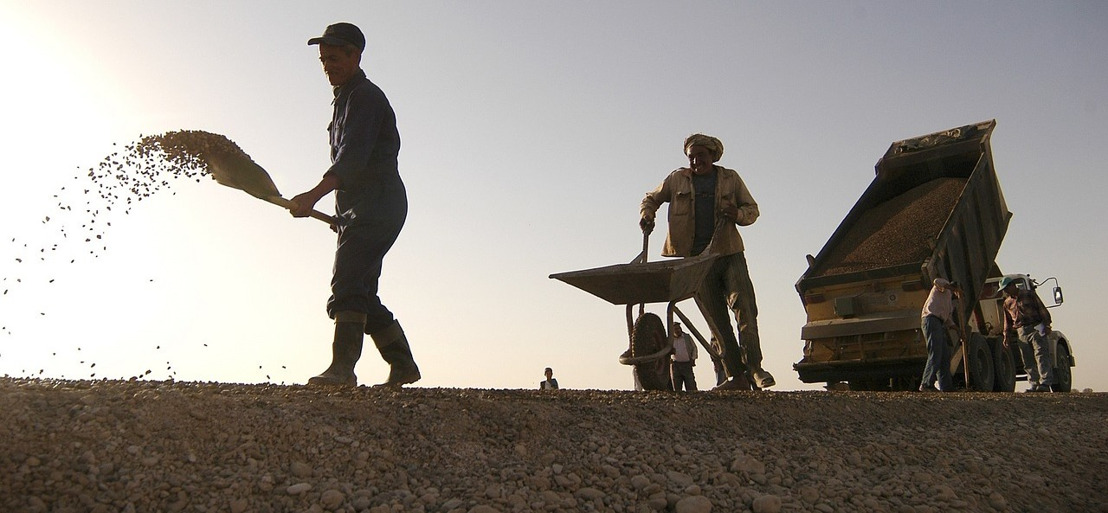 Major Land Rehabilitation Works Underway in Corinth-Grand Riviere Community in St. Lucia
Projects funded by the EU and the OECS under the iLand Resilience Programme
Thursday, March 23, 2017 — A series of crucial public works are currently being undertaken in the Corinth-Grand Riviere community in an effort to reduce the risk of flooding and land degradation. The works were put out to public tender with funding provided by the European Union, under its Global Climate Change Alliance (GCCA) Programme, and the OECS Commission.
Mr. Sherman N. Sylvester, Civil Engineer at the Ministry of Infrastructure in St. Lucia, said observations and eventual assessments by Ministry staff indicated that the road shoulder was being eroded due to heavy rainfall.
"The level of erosion of the riverbanks which formed part of the road shoulders was increasing and threatening the road. This means there was a risk that the road would be undermined and would collapse."
"Considering the importance of this road - which connects the communities of Corinth and Grand Riviere to the main Castries – Gros Islet Highway – there would be a major disruption in terms of commuters' daily routines as well as economically for residents, businesses and the Government," Mr. Sylvester said.
Experts note that the increasing water flow and potential for flash flooding are inevitable. The objective of the land rehabilitation works currently underway is to prevent future economic loss through proactive measures that ensure Sustainable Land Management and mitigate against the effects of Climate Change.
A series of projects are currently being undertaken throughout OECS Member States. Projects include rehabilitation work and services that promote Climate Change Adaptation and Sustainable Land Management (CCA/SLM). All projects fall under the OECS Commissions' CCA/SLM Island Resilience umbrella Programme: iLand Resilience: Promoting a Climate of Change.
Chamberlain Emmanuel Head of Environmental Cluster, Organisation of Eastern Caribbean States
Phillip Cupid OECS Communications, Organisation of Eastern Caribbean States
Ramon Peachey OECS Communications, Organisation of Eastern Caribbean States
Tahira Carter OECS Communications, Organisation of Eastern Caribbean States