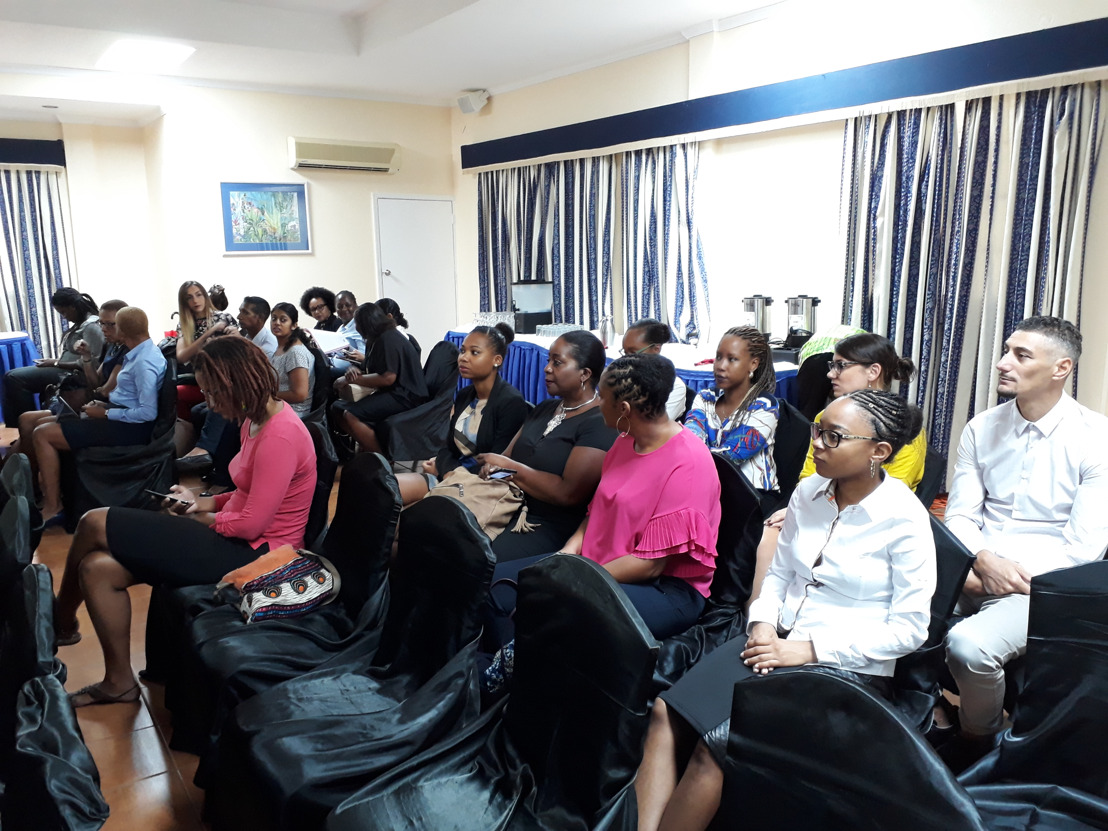 Internship of Martinican professionals in Saint-Lucian businesses to strengthen ties between the two OECS member states
OECS Media release
Thursday, October 19, 2017 — Fifteen professionals from Martinique are starting an innovative training programme in St. Lucia this week. They will be immersed into eleven local companies. This programme is being implemented for the first time between the two OECS member states and is being coordinated by the Chamber of Commerce of Martinique and GFA-Caraibes, a major insurance company.
Different stakeholders from the public sector gathered at the opening ceremony yesterday: Invest Saint-Lucia, Saint-Lucia Trade Export and Promotion Agency (TEPA) and Saint Lucia Coalition of Service Industries (SLCSI). Eleven local companies from various sectors such as tourism, finance consulting, spirits distribution and shipping services also attended the event to welcome the Martinican trainees.

The Chamber of Commerce of Martinique, as a key stakeholder in cooperation and economic integration, supported GFA CARAÏBES to implement the professional internship programme funded under the European Social Funds dedicated to capacity building through training, exchange of experience and professional immersion.

Nathalie Lugiery, Senior Export Development Officer at the Chamber of Commerce and Industry of Martinique said regional economic integration can only be meaningful if we translate it into concrete actions such as this innovative professional internship programme and the Martinique Chamber of Commerce and Industry is strongly committed to the concretisation of OECS/Martinique's regional cooperation within a win-win engagement.

"Although we are neighbours, we have cultural similarities and a common language, we all know that we still need to gain from a better mutual acquaintance; through linking with the educational sector, the business sector, the environmental sector to combine our assets to be stronger together.

"The recent natural disasters our islands have had to brave remind us that the Caribbean is one and fragile - same waters, same climate, same environmental weaknesses. And we have to fight as One as well as to face the challenges of the world" said

GFA CARAÏBES which enjoys a 19% market share in Martinique, Guadeloupe and French Guiana is one of the main stakeholders in property and casualty insurance in the three territories. The company created this programme in order to train employees to take future top management positions. It comprises of technical subjects such as insurance basics, sensitization to accounting, social law, human resources, as well as personal development, public speaking and conflict management. Trained employees also benefit from English classes for which they will now have an opportunity to use in a real English speaking professional context through this internship as Florence Glouche, the coordinator of the Programme explained.
"This internship has two objectives. First it aims at encouraging the candidates to be opened to new working habits, and other management techniques in a Caribbean environment which is still different from the French Caribbean one that they are used to. It also aims at improving their level of English.

"As a result, it was a priority for us to place each trainee individually into the various companies so that they can be fully immersed in an English working environment without their other French coworkers participating to the same programme.
Dwight Lay, General Counsel at the OECS Commission who represented OECS Director General Dr. Jules was at the opening ceremony and highlighted the unique opportunities provided by this internship programme.
"It is a very useful exercise in helping the citizens and business people of the different language speaking territories to exchange information, practices and knowledge. It goes a long way in promoting the objectives of the OECS and regional integration. Although Martinique, as an Associate Member State, is not a part of the Eastern Caribbean Economic Union, this programme will help to promote economic cooperation among member states in the OECS.
The opening ceremony ended with the introduction of each trainee to the representative of their St. Lucian company where they will be based. Taina Jacquet who is taking part in the training programme will pursue the immersion experience at ADMAC. The company distributes specialty European foods and products such as Lavazza or President in Saint-Lucia. She met with Jason McFarlane, the Sales and Marketing Manager of ADMAC. Both shared enthusiastic views about the internship programme below.
OECS Communications Unit Organisation of Eastern Caribbean States