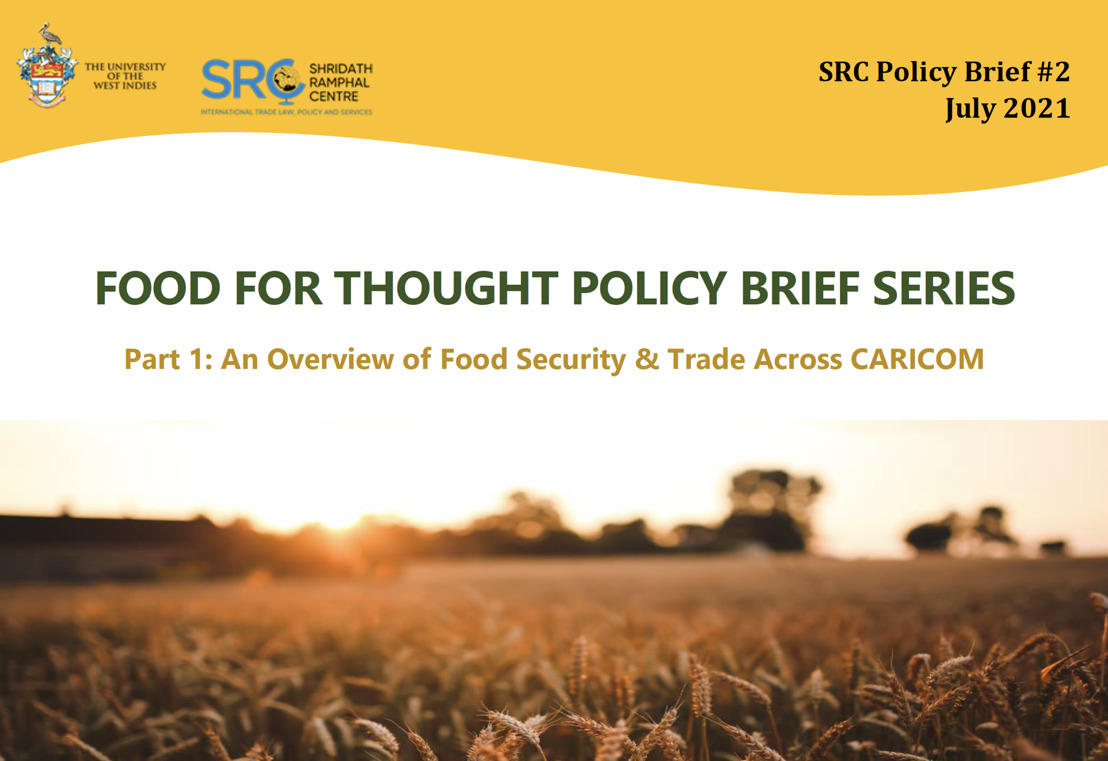 Food For Thought: The UWI/SRC Launches Food Security Policy Brief Series
The series aims to sensitise readers to the region's food security challenges and to propose practical recommendations
Wednesday, July 14, 2021 — Recognising that food security is fundamental to human existence and sustainable development, the Shridath Ramphal Centre for International Trade Law, Policy & Services (SRC) of The University of the West Indies, Cave Hill Campus has launched a Food Security Policy Brief series entitled 'Food For Thought'.
The series, written by SRC Trade Researcher Ms. Chelceé Brathwaite, aims to sensitise readers to CARICOM's food security challenges and to propose practical recommendations capable of improving the situation, bearing in mind the overarching United Nations Sustainable Development Goals (SDGs).
It is hoped that this series sparks innovative thinking, impactful dialogue, and targeted action capable of transforming the way food security is approached and ensuring that no one is left behind.
The Brief comprises four sections:
Conceptualising Food Security and its Importance
The State of Food Security Across CARICOM
Food Self-Sufficiency and International Trade
Moving Food Security from Policy to Action
Key Messages
Food security is a broad concept built on four dimensions (availability, access, stability, and utilisation) which are interconnected and must be achieved simultaneously.
Food security is fundamental to human existence and sustainable development and has wider socioeconomic implications beyond just feeding people.
Food security across CARICOM is being threatened by worrisome findings under the access, utilisation, and stability dimensions. Food access is a function of socioeconomic components and is therefore impacted by rising poverty, unemployment, and inequality across the region. Unhealthy eating regimes characterise the region's food utilisation which is reflected by the increased prevalence of chronic non-communicable diseases and obese and overweight conditions. Meanwhile, the region's extraordinary dependence on external suppliers increases its vulnerability to global supply disruptions and limits foreign exchange reserves, potentially undermining the stability dimension.
Food self-sufficiency and international trade are not binary choices. Food self-sufficient countries produce an amount of food that is equal to or greater than the amount of food they consume. Following this definition, countries seeking to increase their food self-sufficiency status can still engage in trade.
The relationship between trade and food security is complex. Trade can have both negative and positive impacts in the short and long-run under all four food security dimensions.
Going forward holistic approaches to food security must be championed. Greater emphasis must also be placed on the actual implementation of food security policies, plans and strategies.
We hope that you enjoy this new SRC Policy Brief Series and we encourage you to regularly check the SRC's website at www.shridathramphalcentre.com for updates and new releases!
Click here to view the SRC Policy Brief #1: Investment Promotion and Facilitation for Financing Achievement of the SDGs in the Caribbean
Chelceé Brathwaite, MSc Trade Research Assistant, Shridath Ramphal Centre, The University of the West Indies
Dr. Jan Yves Remy Deputy Director/WTO Chair for The University of the West Indies, WTO Chair Programme, Shridath Ramphal Centre, The University of the West Indies
OECS Communications Unit Organisation of Eastern Caribbean States