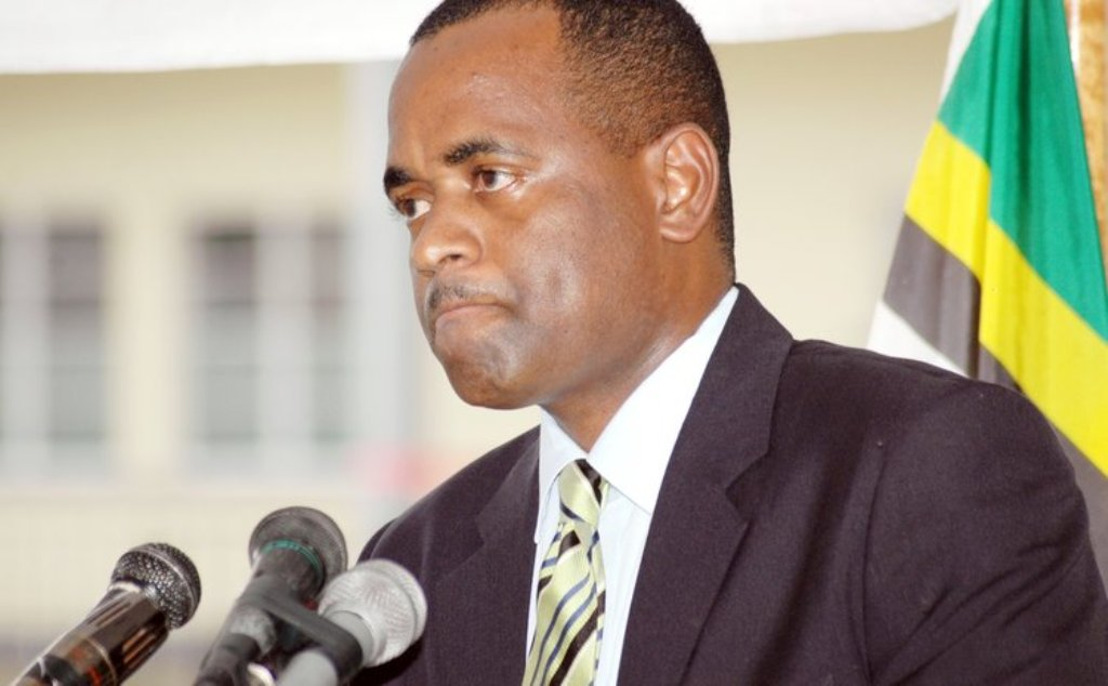 Dominica: We are still Standing!
Official Address by the Prime Minister of the Commonwealth of Dominica, the Hon. Roosevelt Skerrit
Friday, November 3, 2017 — National Statement of the Honourable Roosevelt Skerrit, Prime Minister of the Commonwealth of Dominica on the 39th Anniversary of the Independence of the country on the 3rd of November 2017.
Fellow Dominicans….You are still standing!
A sea of weeping, crashed through our defenses; Yet, we are still standing! We faced the fiercest floods, the most ferocious winds; But we are still standing!
We are sorrow-stricken; we swallow hard, but it still catches in our throat; And we are still standing!
Difficulties envelope every aspect of life, uncertainties swirl; And we are still standing! The outside world wondered aloud whether this is the kind of devastation from which you don't recover. We are still standing. Tall! Waitukubuli!
We, the children of Dominica, have shown the world that disaster is finite; but, hope is infinite! Maria stole everything money can buy, everything you can put a price on; but left what you cannot but… that which is priceless! We will determine the value of those things through our actions in coming days and weeks.
A moment comes, but rarely in history, when a nation's soul is revealed.
How we respond to this moment, will define us, will make us; will become us.
In this solemn moment, let us all, Dominicans who reside here or abroad… let us chose today to renew our pledge to the service of Dominica, her people and to all humanity.
Let us together renew our pledge to fight poverty and ignorance; build a prosperous, progressive nation; and to invest in institutions that safeguard justice and opportunity for all.
Our nation's doubters will say what is the point of such a small country having such high ambition at such a low time like this? We say that the measure of the greatness of a nation is not its size or what it aims for in comfort, but what it strives for in crisis.
When on the morning of September 19th I walked from Morne Daniel to St Aroment, passed through Goodwill and around Roseau, I witnessed total destruction. I saw corrugated iron mangled and tossed aside, with everything else as if we had been ransacked by a giant burglar! I sensed uncertainty spiraling. I smelled fear. I also breathed in the deep indefatigable determination of the vast majority of our people to carry on and stand up.
When faced with grave danger humans have evolved an instinct to fight or flee. We chose to fight! We chose to rise!
Those who may at first have fled, will return to join the fight as they did after Hurricane David and Tropical Storm Erika. Sometimes it takes a crisis to remind everyone of the importance of our journey.
Remember, you only see the stars clearly at the darkest hour!
Ladies and Gentlemen, on this our Independence Day, Dominica stands forth…. On the edge of a great triumph to come…; On the edge of a triumph not just for Dominica but for the world!
The disaster visited upon us has shown in so many ways how we are not an island onto ourselves. We are not an isolated fragment of humanity floating in the Caribbean Sea. Humanity is tightly knit.
The industrialisation of others warmed the seas and brought hell and fury down upon us but we will not be helpless victims of this world.
Humanity's development has shaped ours; and our response must help to shape Humanity's course.
It will be a measure of the maturity of our independence of its meaningfulness if we are brave enough and wise enough to accept that the challenge of our time is global warming and climate change.
We must therefore grasp the opportunity to make a difference to the world to shine a light onto the right path for our planet. We do not lightly choose to rebuild better or to build the first climate resilient nation in the Anthropocene. The message has found us. We understand the task. We shall rebuild so as to bring a new hope into being for humanity. We must! We will!
Our tryst with humanity's destiny is not a chance thing. Our commitment to the preservation and nourishment of our natural environment is second to none on this planet! Who better to restore the rainforest, protect the seas, and to know intimately with what ferocity we need to build against?
We have set out our plans to you the people. We have divided the task into immediate relief economic recovery and climate resilient rebuilding.
Having a plan has allowed us to galvanise the support and assistance of the international community. The task is formidable. We have lost an estimated 200% of our GDP and our goal is to rebuild better not just to replace what was lost. We must use the opportunity to move quickly to 100 % resilient and renewable energy.
We must rebuild almost all of our schools and clinics in a smart, climate resilient way.
We must build new roads bridges and put in place slope interventions. We must coordinate our rebuilding so that our cables run underground alongside this new infrastructure.
We must renew Roseau… its sea and river defences. We must support the rebuilding of five thousand new homes. We must reorient our agriculture to ensure food security for us and those dependent on us; and more,
We will establish, the Climate Resilient Economic Agency of Dominica, (CREAD), a new institution to support the rapid implementation of our plans once they are funded.
Following visits to Washington, New York, London and Brussels over the last few weeks over 50% of our funding is coming together. Additionally, we will be presenting our plans to a Partners Conference in New York later in the month to help raise part of the rest.
We will support the private sector as it rebuilds and restores. We will facilitate insurance payouts the importation of rebuilding materials the forbearance of lenders and clamp down on price gouging.
For the balance of the resources we are pursuing innovative financial instruments that link the restoration of the rain forests and protection of our marine environment to new resources for rebuilding. It will require careful, thoughtful, strategic planning carried out at lightning speed, because we do not have the luxury of time.
It will take unity of purpose. It will take courage, It will take fearlessness. It will take incessant striving.
It will take every single Dominican to join the fight to feel its fierce urgency.
It will also require a resoluteness of character. This is no time for ill-will. No time for petty and destructive criticism.
We must be indivisible! We must have a high indifference to those who want to pull us down to their low level to distract us with childish nuisances.
As a great man said, no nation can be great whose people are narrow in thought and action. Darkness cannot drive out darkness!
Fellow Dominicans, here and abroad, the time has come to redeem our past pledges to our nation and to our brothers and sisters. Let us not betray November 3rd, 1978.
Our future beckons to us! If we are true to our path great triumphs await us; Our actions will become a history that others will write; Let it be a history that rouses the hearts of future generations; ….that forges a steel within them that will never be bent.
Today, we light a torch in our minds in memory of those taken from us in solidarity with those struck hard here and across the Caribbean.
Our sights are set high, but we know the rocks in the road. ….and as we slip, stumble and stride…we move forward and ….We shall NEVER let that torch be blown out; … however high the winds!
I call upon you, Dominicans, friends and well-wishers…, to join us on this journey! Join us with faith and confidence on this fateful and grand adventure!
Dominica's star rises; Let it never set! Happy Independence, Dominica!! May God bless you. May God bless our families. May God bless Dominica.
I thank you!
Independence Address by Dominican National Eddison Henry at the Flag Raising Ceremony held in honour of Dominica's Independence at the OECS Commission in Saint Lucia on November 3, 2017
Fellow Dominicans,
I feel honoured to stand here before you to offer words of solidarity on behalf of our nation on this 39th Anniversary of Independence. This year's theme 'Building a Brighter Future Together' is so relevant, that it feels prophetical and even perhaps more importantly it serves now as a clarion call to action, to rally Dominicans and friends of Dominica. As it comes on the heels of Hurricane Maria.
This call has been echoed by our Prime Minister through the United Nations on 23rd September. A call now more audible now as it is requires all of us to join the battle on mitigating and surviving against Climate Change and all the attendant impacts which threaten to deny us the benefits of our independence. My thoughts are drawn to champions like George Washington Carver, a gentleman born into slavery but rose to be one of the all-time great botanist, inventor and philosophers in the USA, one of his most pervasive quotes is one which he called the black planters out of a shroud of despair hopelessness and shame "Start Where you are with what you have, make something of it and never be satisfied." Surely this is a wonderful example of overcoming adversity in spite of the challenges life throws at you.
This year's independence theme calls us to do just that, we cannot be satisfied for nature itself forces us to keep building in order to secure our independence ideals and demonstrate our resilience as a people.
But I ask you today what does independence mean for us or more specifically top you? Oxford offers meanings such as "Free from outside control; not subject to another's authority, self-governing" among other related meanings. I put it to you that to us it means being free as a country to choose to participate in the mission of the OECS, Economic Union, CARICOM and ALBA among others, it means being free to join the collective with whom we share deep relations, deep history and deep aspirations and scarce resources. All geared toward the collective development of all. Above all Independence means that we must always be in in a proactive mode in order to maintain the achievements of our young nation. Building, re-inventing, adapting and re-engineering ourselves and our achievements
Dominica is known for its strong and resilient people, you would be aware that this is not the first time that Dominica's has been met with the need to rise from the ravages of Mother Earth. In 1979 just a little more or less a year after gaining independence from Great Britain, Hurricane David Struck killing 22 people, decimating the banana and citrus industry, flattening the forest and uprooting homes, lives and so on.
Over the years we have been hit almost annually by weather disturbances. Iris, Lewis and Marilyn all impacted the island in 1995 again leaving crops, homes and infrastructure in serious disrepair, Hurricane Lenny which had the uncharacteristic behaviour of moving in reverse reaped havoc on the west coast roads and communication system. The 2013 Christmas eve trough was also a reminder that even with the hurricane season officially ended. The effects of climate change continues to challenge our resilience. Tropical Storm Erica is also of very recent memory displaced whole communities and reaped unforgettable damage to our infrastructure. Yet! our spirits are not broken, our resolve has not quietened and our desire to build is not diminished. These occurrences have forced national economies to reconsider the timeframe of the traditional development strategies from 3-5 years to 20 months because of the frequency with which we have been struck over the past 10 years. We have learnt resilience through our trials, we have embarked on a road of "building back better" following tropical storm Erica and now following hurricane Maria endeavour to build the first climate resilient nation.
Then came the events of 18th September 2017, this will long be remembered as it did not matter whether we were on island at the time or not. It is a day which changed our lives forever. Many of us who experienced the storm from the outside would like to quickly forget that pain and anxiety which was felt in the hours and days post 2am Tuesday 19th September. The period when there was no communication from Dominica, and images from above depicted a wasteland, one reporter added that there was no sign of life below.
Our independence and these experience have allowed us to make a declaration of war on Climate Change. This was so eloquently presented to the world by our leader on 23rd September. Prime Minister Skerrit invited the world to use Dominica as the battleground for Climate Change. Our independence and these experiences has also provoked closer partnership with agencies such as the work Bank who respond positively to Dominica being positioned as the first Climate Resilient Country in the world. A vision which received commendations from the President of the World Bank Jorge Familiar. These events though tragic, though trying, though testing has provided the platform for the world of independent nations to choose to assist Dominica with its rebuilding and Climate Resilience efforts.
As we continue our post-independence nation building pursuits, I ask for consideration of two important matters, Technical Vocational Education and Training and the need to cater for Special Needs.
As we face the enormous task of rebuilding, training and certification of the many skills and innovations must be a priority, as these will become common place for Dominica throughout the rebuilding phase. The opportunity to use of Technical Vocational Education and Training for award of the Caribbean Vocational Qualification should be actively explored. The opportunity exists for Dominica to serve as a laboratory for TVET Skills since a multiplicity of disciplines will be pursued simultaneously, taking a step back to ensure a structured approach will allow for the documentation of how the resilience of the Dominican people can be translated into its infrastructure and thus creating a lasting edifice of the Climate Resilience Strategy.
My father the late Elkin Henry was a champion of equity, he never accepted that people were unequal due to their socio economic, physical and mental status. He was a staunch believer that the strong must cater for the weak. Therefore as we pursue building back better, it is important that the needs of the segment of our population afflicted with special needs whether it be socio economic, physical or mental be considered in designs and implementation. Our independence ideals demands of us to protect, motivate and present this segment of our population with the opportunities to contribute to the rebuilding process and allow for them to experience their own brand of independence.
Brothers & Sisters as we embark on Building a Brighter Future Together all we have to decide is how much to toil, where do we fit our hearts our hands and our voices. There is an old saying that suggest that a man can do more than his share but not more than his time, so while we are here we must do what must be done, even those tasks outside our share, allow me to paraphrase our national Anthem, We must prosper! The call has been sounded, even in these desperate times let everyone rejoice, "All for Each and Each for All"
Finally, allow me to wish everyone bon independent, pour monde Sen Lici avec le OECS moi le remecier ou toute pour facilitae nous ici avec celebracion indepedant Dominique
To the world I say thank you for coming to our aid with so much outpouring of relief, because of you independence can be celebrated with the dignity it deserves
Merci au temps.
Merci toute monde.
Passe un bon jounee.
OECS Communications Unit Organisation of Eastern Caribbean States