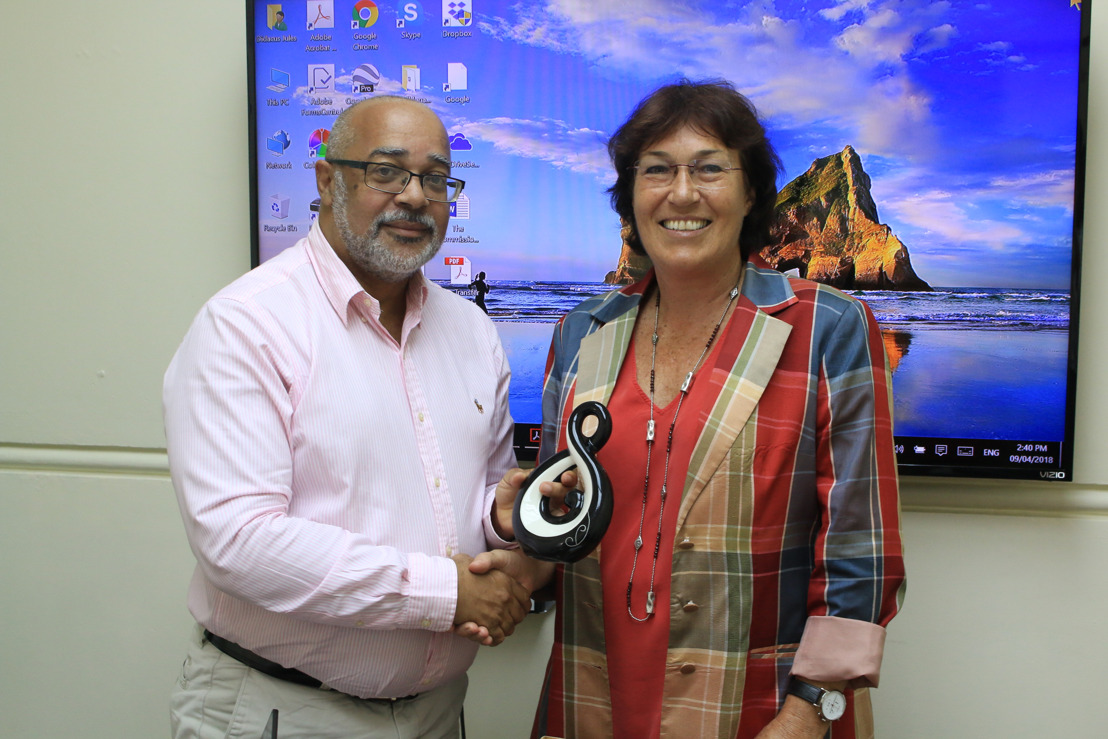 Departure of New Zealand High Commissioner to OECS
OECS Media Release
Wednesday, April 11, 2018 — New Zealand High Commissioner Her Excellency Jan Henderson, who was appointed to the OECS in 2014, has come to the end of her posting. Her Excellency paid a courtesy visit to the Director General of the OECS Dr. Didacus Jules and spent some time reflecting on the joint projects implemented during the four years of close collaboration.
High Commissioner Henderson was the first New-Zealand High-Commissioner to be based within the region and was instrumental in building the High Commission and establishing closer ties with the OECS during her tenure.
The Government of New Zealand and the OECS Commission partnered on a series of projects geared towards enhancing climate resilience in the region facilitated through the sharing of technical and financial resources.
The OECS Commission received a Grant Funding Arrangement (GFA) of US$140,000.00 from the New Zealand Ministry of Foreign Affairs and Trade (MFAT) which used to assist several communities affected by floods in Saint Lucia, St Vincent and the Grenadines and the Commonwealth of Dominica, under the Caribbean Community Flood Response Programme.
We have been working very closely with the OECS Commission on projects undertaken in different Member States. As an example, I am delighted to say that the Gutter Community Shelter built after the floods of Hurricane Erika in the Commonwealth of Dominica in 2013 stood the full force of the category 5 hurricane Maria in 2017 and was able to provide a safe space for inhabitants who lost their houses" said High Commissioner Henderson.
Other projects completed under the Grant included the installation of a fuel tank and a pump in St. Vincent and the Grenadines, as well as the stabilization of the River Bank at Anse La Raye and the reconstruction of Drainage Works at La Clery, two communities in Saint Lucia.
An additional grant of US$52,000.00 from the Government of New Zealand has since been utilized to assist the Gutter Village Community in the Commonwealth of Dominica after Hurricane Maria and to extend the Anse La Raye Gabion Baskets (stabilization walls with meshes) in Saint-Lucia.
The OECS Director General expressed gratitude to High Commissioner Henderson for her deep engagement with the OECS. He lauded the commitment of the Government of New Zealand to climate interventions at community and grassroots level noting that all of the infrastructural enhancements financed through the generosity of New Zealand have withstood the test of time and climate and have helped the OECS by providing good practice examples of climate engineering that can be replicated across the OECS.

The OECS delegation extended best wishes to High Commission Henderson and her family in their future endeavors and looked forward to working as closely with her successor.
| | |
| --- | --- |
| | This story aligns with OECS Strategic Objective No.5: Drive Key Economic Priorities. |
Josette Edward-Charlemagne Programme Officer, OECS Social & Sustainable Development Division, OECS