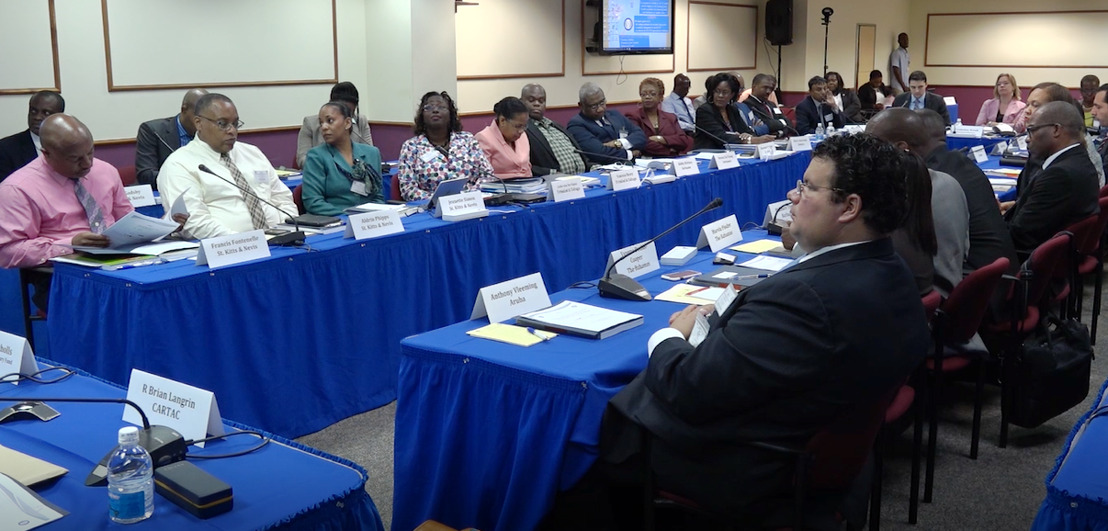 CARTAC/ECCB Host Workshop on Caribbean Financial Market Infrastructure
ECCB Media Release
Tuesday, April 11, 2017 — The Eastern Caribbean Central Bank (ECCB) is partnering with the Caribbean Regional Technical Assistance Centre (CARTAC), to host a workshop on Financial Market Infrastructure (Payments Systems) in the Caribbean from 10 to 13 April at the ECCB Headquarters, Basseterre, St Kitts and Nevis.
Officers from Central Banks in the Caribbean, including the ECCB, along with the Eastern Caribbean Securities Regulatory Commission (ECSRC) are participating at this four-day workshop which forms part of the initiative to advance payment systems development in the region.
The workshop is aimed at assisting countries in strengthening the resilience of their respective systems through improved oversight, particularly in relation to the principles of the Committee on Payment and Settlement Systems and the Technical Committee of the International Organisation of Securities Commissions (CPSS-IOSCO) for financial market infrastructures, with a view to preserving financial stability.
The CPSS–IOSCO principles are designed to ensure that the financial market infrastructures supporting global financial markets are robust and well placed to withstand financial shocks. These principles are part of a set of standards that the international community considers essential to strengthening and preserving financial stability.
Speaking at the Opening Ceremony, Shelton Nicholls, Senior Financial Sector Expert at the International Monetary Fund (IMF) said that it was therefore vital as a region that regulators redouble their efforts to implement the CPSS-IOSCO principles.
In her keynote address at the Opening Ceremony, Yvonne Jean-Smith, Director, Banking and Monetary Operations Department, ECCB, said that in light of the importance of the financial market infrastructure to the preservation of financial stability, the ECCB has been instrumental in the development and improvement of the Payment System Infrastructure in the ECCU by focusing on: The Governance Framework; Modernisation of the Large Value/Interbank Settlement System and Modernisation of the Retail Payment System.
The workshop brings together a range of speakers from international, regional and national institutions involved in payment systems infrastructures and oversight to address some key themes including:
CPSS-IOSCO Principles for Financial Market Infrastructures;
Responsibilities of Central Banks and Market Regulators for Financial Market Infrastructures;
Cyber Resilience of Payments Systems; and
Payment Systems, Interconnectedness and Financial Stability in the Caribbean.
Ingrid O'Loughlin Senior Director, Corporate Relations Department, Eastern Caribbean Central Bank
Phillip Cupid OECS Communications, Organisation of Eastern Caribbean States
Ramon Peachey OECS Communications, Organisation of Eastern Caribbean States
Tahira Carter OECS Communications, Organisation of Eastern Caribbean States