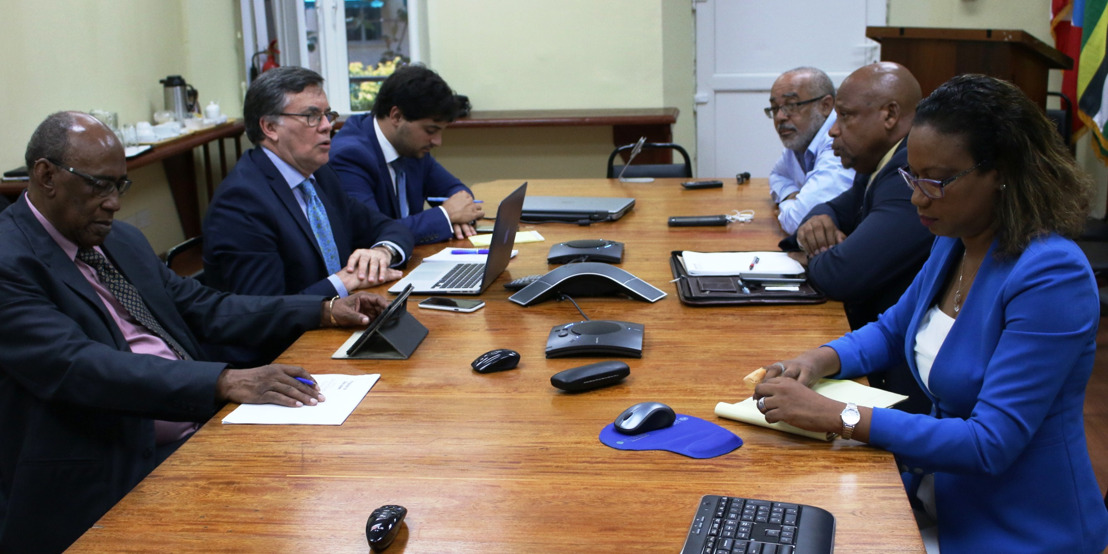 Candidate for IICA Director General Holds Audience with OECS Agricultural Stakeholders
Spanish translation included
Tuesday, August 22, 2017 — Key agricultural stakeholders in the sub region met with Argentine candidate for Director General of the Inter-American Institute for Cooperation on Agriculture (IICA), Dr. Manuel Otero, to review his vision for the future of the regional organisation.
Dr. Otero, one of two outstanding candidates for the role of IICA Director General, met with OECS Director General, Dr. Didacus Jules; Minister of Agriculture in Saint Lucia, Hon. Ezechiel Joseph; and FAO Representative, Ms. Sunita Daniel, at the OECS Commission's headquarters in Saint Lucia on August 15.
The meeting, held via zoom web-conference, also gave an audience to Agriculture Ministers and Permanent Secretaries throughout the sub region who welcomed the opportunity to engage the candidate on matters of concern at national and regional levels.
Dr. Otero expressed optimism for the development of agriculture in the region and shared his vision to reposition IICA as an institution that is much closer to its member countries.
Key issues for IICA's Agenda in the Caribbean, as presented by Mr. Otero, were:
a more resilient agriculture through climate change mitigation, adaptation and use of renewable energy;
linkages to regional & global value chains;
technology adaptation and innovation;
agricultural health and food safety standards; and
food and nutrition security, farm and family income from agriculture.
Minister Joseph of Saint Lucia said that the meeting was timely as it provided OECS Ministers an opportunity to listen to the candidate's policies and plans for the region and, in turn, to ask questions and gain commitments for continued support of agricultural development in the sub region.
"One would appreciate that the playing field is not levelled. IICA is in Latin America and the Caribbean, and as small island states our agriculture is even more challenged than that of Latin America."

"I was very impressed with the presentation that we received and it is for us now to decide, when the time comes, which of the two candidates would be the one we believe would be in the better position to continue to develop that institution," Minister Joseph said.
Elections for the new IICA Director General will be held in San Jose, Costa Rica, this October. The successful candidate will succeed Mexican Agronomist, Victor Villalobos, who concludes his second term as the head of IICA in January.
...
Candidato a la Dirección General del IICA se reúne con los principales actores agrícolas de la OECO
El candidato argentino a la Dirección General del Instituto Interamericano de Cooperación para la Agricultura (IICA), Sr. Manuel Otero, se ha reunido con los principales agentes del sector agrícola de la subregión de la OECO con el fìn de presentar su visión para el futuro de la organización.
Otero, uno de los dos candidatos destacados para el cargo de Director General del IICA, se reunió el 15 de Agosto en la sede de la Comisión de la OECO en Santa Lucía con el Director General de la OECO, Dr. Didacus Jules, el Ministro de Agricultura de Santa Lucía, Hon. Ezequiel Joseph y la Representante de la FAO, Sra. Sunita Daniel.
La reunión, que se realizó por videoconferencia, también incluyó los Ministros de Agricultura y Secretarios Permanentes de la subregión quienes tuvieron la oportunidad de discutir con el candidato temáticas específicas tanto a nivel nacional como regional.
Otero expresó su optimismo al afirmar que espera buenos tiempos para la agricultura y que su visión es reposicionar al IICA como una institución mucho más cercana a sus países miembros.
Los temas clave de la Agenda del IICA en el Caribe, presentados por el Sr. Otero, fueron:
una agricultura más resistente mediante la mitigación del cambio climático, la adaptación y el uso de energías renovables;
vínculos a las cadenas de valor regionales y mundiales;
adaptación tecnológica e innovación;
normas de salud agrícola y seguridad alimentaria; y
garantía alimentaria y nutricional, ingresos agrícolas y familiares de la agricultura.
El Ministro Joseph de Santa Lucía dijo que la reunión fue oportuna ya que brindó a los ministros de agricultura de la OECO la oportunidad de escuchar de primera mano las políticas y los planes del candidato para la región y, a su vez, formular preguntas y obtener los compromisos para que se continue apoyando el desarrollo agrícola en la subregión.
"El campo de juego no está nivelado. El IICA está en América Latina y en el Caribe, pero como pequeños estados insulares que somos nuestra agricultura está aún más desafiada que la de América Latina."

"He quedado muy impresionado con la presentación que hemos recibido y ahora debemos decidir, cuando llegue el momento, cuál de los dos candidatos sería el que creemos estaría en la mejor posicion para continuar desarrollando esta institución," dijo el Ministro.
Las elecciones para la nueva dirección general del IICA se llevarán a cabo en San José, Costa Rica, este octubre. El candidato elegido sucederá al ingeniero agrónomo mexicano Victor Villalobos, quien concluye su segundo mandato como jefe del IICA en enero.
This story aligns to OECS Strategic Objective 5: Drive Key Economic Priorities
OECS Communications Unit Organisation of Eastern Caribbean States