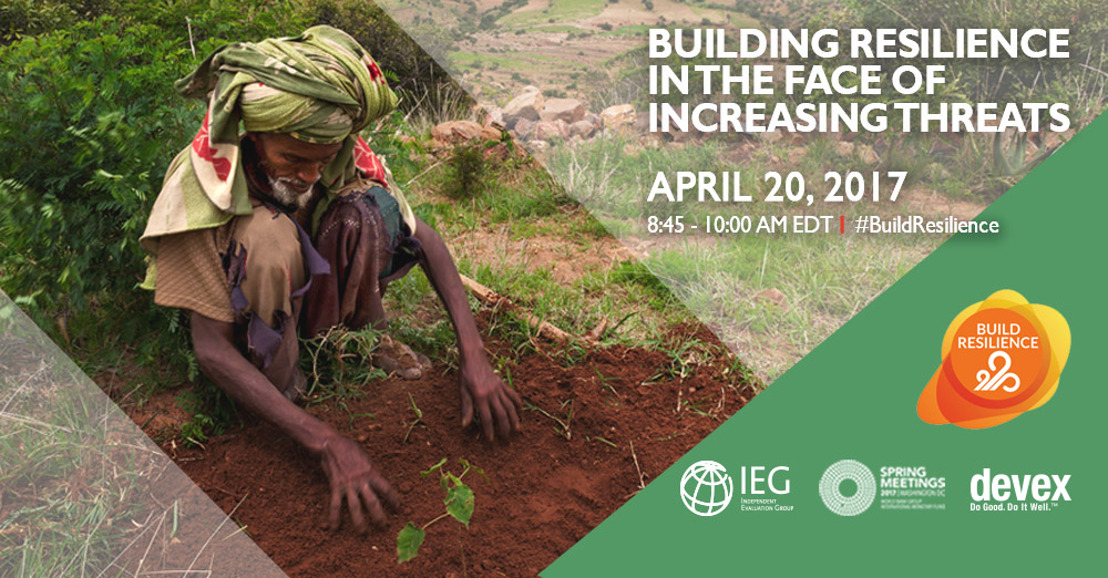 Building Resilience in the Face of Increasing Threats
World Bank/IMF Spring Meeting features Keynote Address by Prime Minister Mitchell of Grenada
Friday, April 21, 2017 — Recent developments have raised global attention to the increasing threats that many countries encounter, in terms of vulnerability to natural disasters, climate change, fragility, conflict, and macroeconomic volatility. The 2017 World Bank/ International Monetary Fund Spring Meetings held an event on Thursday, April 20, to create discussion on building resilient communities and welcomed the Keynote Address by Dr. the Right Honourable Keith Mitchell, Prime Minister of Grenada and Chairman of the World Bank's Small States Forum.
Building on the Sendai Framework for Disaster Risk Reduction, other stakeholder insights and recent work by the World Bank's Independent Evaluation Group, the event explored how the World Bank Group and its development partners can better assist client countries in improving their resilience to acute systemic shocks.
In his feature address, Prime Minister Mitchell said that "sustainable development is hard work everywhere, however for small states this process can seem almost impossible when they find themselves continually having to start over due to external shocks over which they have absolutely no control."
Dr. Mitchell outlined the importance of a solid fiscal framework, in collaboration with assistance from social and development partners as crucial elements to building small state resilience. Using his native Grenada as an example, Prime Minister Mitchell also noted the difference that the negotiation and inclusion of a 'hurricane clause' has made to lending agreements.
"This clause states that if Grenada is hit by a natural disaster of a certain magnitude, there will be a standstill on payments for an agreed period to allow the country to take care of its immediate social needs and to rebuild its capacity to resume payments."
"We believe such a clause should be in every sovereign debt instrument for small states," Dr. Mitchell said.
Thursday's panel discussion was moderated by Raj Kumar, President and Editor-in-Chief of DEVEX and featured panellists Dr. the Right Honourable Keith Mitchell, Prime Minister of Grenada; Robert Glasser, Special Representative of the UN Secretary-General for Disaster Risk Reduction; Keiko Honda, Executive Vice President and Chief Executive Officer of the Multilateral Investment Guarantee Agency; Ivo Menzinger, Managing Director for Global Partnerships at Swiss Re; and Yasushi Kanzaki, Senior Vice President of the Japan International Cooperation Agency.
The 2017 Spring Meetings will continue through April 18-22, click here to view upcoming events live.
Source: IEG, World Bank Group
Phillip Cupid OECS Communications, Organisation of Eastern Caribbean States
Ramon Peachey OECS Communications, Organisation of Eastern Caribbean States
Tahira Carter OECS Communications, Organisation of Eastern Caribbean States